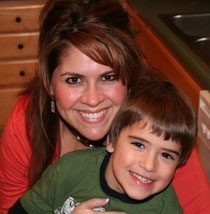 "Older women likewise are to be reverent in their behavior, not malicious gossips nor enslaved to much wine, teaching what is good, so that they may encourage the young women to love their husbands, to love their children, to be sensible, pure, workers at home, kind, being subject to their own husbands, so that the word of God will not be dishonored." Titus 2:3-5
This past week an amazing woman who has had a huge impact on my life was in town visiting family. She came by to spend the morning with me, John and the kids. It was fun to finally introduce her to Hudson (we haven't seen each other since John and I left Ohio two years ago) and let her play cars with JT since she hasn't seen him since he was just beginning to walk. It was refreshing to visit with her and encouraging as usual.
When I think of Debra, I think of Titus 2:3-5. She's an older wife of 17 years and a wonderful mommy of three sweet boys. She is reverent in her behavior, she teaches what is good, she encourages me and challenges me to love my husband, to love my children, to be sensible, pure, hard working and kind. We met often while John and I lived in Ohio... and we don't get to talk that often since we've moved... but whenever we do get to catch up, I know it will be meaningful.
What I love about Debra is that she isn't afraid to 'get into my life'... she isn't afraid to ask those hard questions... and she doesn't want those surface answers. As we were visiting she asked me, "How do you think you are doing as mommy?" And she really wants me to think about it before answering and then she encourages me.
Then she turned to John and asked, "How do you think Natalie is doing as a wife?"It's funny because John started mentioning what a great mom I was and how I worked so hard to love the kids... Debra stopped him immediately. "I didn't ask how she was doing as a mom, but as a wife."
I love it! Debra and her husband have been amazing support for John and I as we have grown in our own marriage.
She asked how I thought John and I were doing and encouraged me yet again to remember to keep the fire alive between us amidst having kids... one day the kids will be gone and we don't wanna be looking at a stranger. She encouraged me as a mommy to take God's grace as it comes- one day at a time- and to hold tight to the old saying, "This too shall pass".
So this blog is partly to just reflect on how thankful I am for people like Debra in my life. She has walked me through some challenging moments and has even helped me heal from hurts in my past. She has reminded me of Truth in love to comfort me, and she has spoken Truth in love to straighten me out when I'm just being plain ol' stupid.
Do you have a Titus women (or man... if you are a guy reading this) in your life? Do you have that type of person who can walk through tough times and speak words of encouragement while pointing you to the scriptures? Do you have that type of person who can look you in the eyes and tell you "You're in the wrong here..." and then help you do what is right?
If you don't, I would encourage you to begin praying about finding that person. Debra was an answer to years of praying.... two years to be exact. I remember praying specifically for a women to disciple me and walk through life and scripture with me. I would encourage you to do the same and then begin that journey together. It is such a blessing!