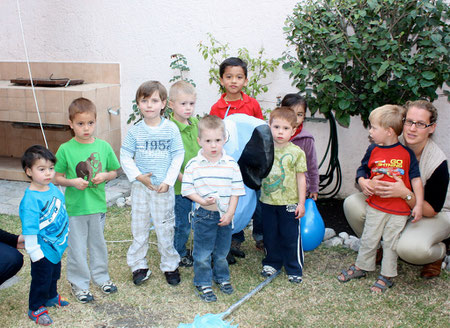 Three years ago today I gave birth to what you would call a 'bouncing baby boy'... I never really understood what they really meant... but now, three years later, I can tell you exactly what it means... and it defines Hudson to a 'T'. Our little man turned three today and he is truly a 'bouncing big boy'... He is full of life, full of energy, full of giggles, full of adventure and full of excitement. He brings so many laughs and so many smiles to this family. He's constantly moving, literally running from place to place, and is non-stop from the moment his eyes shoot open in the morning to the time his eyes finally close after wearing himself out each and every day. He is full of surprises and curiousity. I can't imagine life without him. We love him. 
Dear Hudson,
It has been three years... three amazing years since you were born into this world! You are precious to us. You are a true gift from God bringing us so much joy. You can put a smile on anyone's face even when you are driving them crazy... you are that child that makes us laugh even when we are so frustrated. You can make even the hardest of hearts melt with those sweet eyes, that sheepish smile and the contagious giggle. Even at three years old you just love life and adventure and I pray that you would never change. I pray that your sense of adventure, your love to laugh and to play and to smile would draw you close to a God who is full of surprises, full of adventure and ready and willing to make your joy even more adundant. You make our hearts swell as you share your toys with JT and Lucia, with your sweet desire to help your baby sister and to protect her from danger, with your love to cuddle and just be. I pray that you would never loose that and you would find it possible to always be still with God and 'cuddle' in His arms. God has amazing things planned for you little one. We love you.
Today we celebrated Hudson's third birthday with some wonderful and amazing friends Rio style. One of Hudson's favorite movies has been Rio so we had a blast today. I hope you enjoy some of these photos!
Click HERE to see photos of our Rio party!