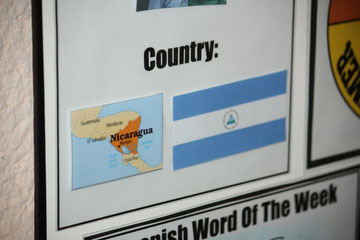 So one of the things that John and I began to incorporate a while back into our family devotion time was a weekly prayer not only for a specific individual but also for a specific country. Our desire is that the kids would develop a heart for the nations and that they would feel the heavy burden to pray for the lost all over the world. We have been looking online at Operation World for each countries prayer needs and as we pray for each country, we show the kids the country's unique flag. We also print out a small map of the country and point to it on the globe. It's been fun... even for us.  For my preschool homeschooling I've been doing with the boys, we've been covering one letter of the alphabet a week. With all that being said, we decided the way in which we would choose the country we were going to pray for each week would coincide with the letter of the week...
Needless to say, John and I were searching the Operation World site the other day and ran across these very short videos of prayers for each country. I thought they were pretty neat because basically if you're desire is to pray for the world but don't know what to pray, the guy on the video prays for you as you bow your head and listen and pray along with him. I thought it could be fun if you prayed along with our family each week for a country! 
Ironically, we are on the letter 'N'... and the video is a prayer for Nicaragua... the country we are adopting from. Take a few minutes to watch/listen to this video and pray along with us for the country of Nicaragua this week!