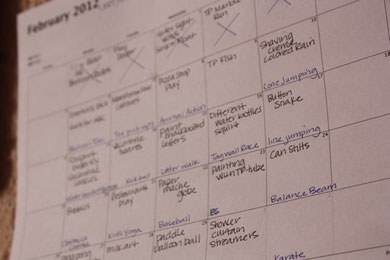 I'm kind of a organizational nut. I think this is why when I had kids, I went a little bonkers. Anyone who has kids knows that as much as you try to be organized, little wee ones can put a major dent in your Covey planner. I noticed a while back when I started out on the homeschooling-give-it-a-try journey that if I started my day early with something structured (i.e. craft or planned activity), the boys did better throughout the rest of the day - sort of set the tone for the remainder of the hours left until bed time (yes, sometimes at 7:30am I have found myself already counting down the minutes until the day was over... lets not talk about those days though, okay?). 
Last month I found myself simply out of juice. If it wasn't planned already, I probably wasn't going to come up with anything entertaining that morning... and with the craziness of our life, trying to plan something the night before was not going to happen either. 
Well, a couple weeks ago I decided I was going to start writing a month calender of meals for each day. I'd spend some time one evening planning the meals for the month, writing the weekly grocery list, etc. This is something I've always wanted to do but just never thought it was for me. I always thought, "What if I don't want to eat what I planned that day? What if I'm craving something else?"
I don't know if it's because I now have THREE little ones walking and/or crawling around or the fact that I have an extra mouth to feed now that our little munchkin is eating big-girl food (and yes, she has her momma's appetite so she's defintiely not going to be a dainty salad eater and is already out eating one of her older brothers), but I decided I would try doing the plan-dinner-meals-for-a-month kind of thing... It's been pretty nice because I really don't have to use my brain at all thinking about what we should eat for dinner each day... and since my brain is usually fried by dinner time, this is a serious positive! 
So my thought was, since I had a creative-brain-fart over the last month despite all my pinterest surfing (I actually contribute my brain-farts to my laziness), I could come up with a calender of crafts/activites for each day of the month. See the picture for my February calender. I didn't work so hard (since I'm still doing preschool stuff) to match what our reading schedule (we use Sonlight) was with the craft I picked each day.... but I figured I could find something educational to teach with every craft we did. 
All that to say, I love it! I don't have to use my brain... again-  except for the 30 minutes it took me to search the internet for ideas and write it all down. I gather the material I need the night before and I'm ready to go 9 am the next morning. Seriously - this has been great! 
I also added a physical activity (since this is something we NEED majorly in our house... too much little boy craziness around here) to each day. You'll see the craft in black and the physical activity/game in blue. This is a work in progress for me since I just started this month... but so far, so good! I highly recommend doing this!