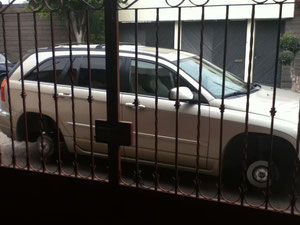 So, yet again, this has been a unique week for us. I have attempted to post a number of times over the last week, but to be honest, just felt my thoughts were too depressing and sad. I know i haven't posted very much fun and exciting news of late... sorry. God IS doing alot of great things... it just seems that the last few weeks have been a reminder of how much we need Jesus and just how dependant we are on our heavenly father. 
A few days ago, we awoke to JT saying the guard of our neighborhood was ringing our doorbell... and something about our tires not on the car. Of course, we thought JT didn't know what he was talking about until we opened the front door and found this (see picture). Yes, someone (or someones) in the middle of the night jacked all four of BRAND NEW tires off our car. They also stole four tires off of a brand new car down the street from us. It's still a mystery as how how they got into the neighborhood considering we have a guarded gate and high fences with barbed wire on the top. The neighborhood has been safe and something like this hasn't happened in practically a decade! Needless to say, we had to buy another set of tires. We are thankful though that we could afford to fix this emergency since we only have one car... so we are thankful for God's grace amidst the situation. 
We are also still waiting for Julio to get his official court date for his trial. Yes, they told him they would give him a court date last Monday, but they still have not done so... John was driving to the prison the other day to see Julio and He said he was just struck with the great need for faith in God... faith in trusting who God is amidst the challenges and trusting His provision. There is so much we are doing that is dependant on God...
And finally, if you haven't been following along, our sweet friends that discovered a brain tumor was diagnosed as a grade 3... not at all what we were hoping for. It has been a long week of tears in our home. I find myself throughout the day on the verge of tears and completely at a loss for words. There are none.
We know God is able and we know that God is fully capable of healing Susie... but regardless, my heart breaks that they have to go through this. Ben and Susie are two of the most amazing people we know. They are probably the two most influential people who have challenge and encouraged John and I in our own marriage. They have been a blessing, an encouragement, and huge help as we embarked on the adoption journey since they had been down this road before. And they have demonstrated their love for God and for God's people all over the world in mighty ways that have impacted my own personal life. 
If you have not seen this on their website yet, Ben took 30 minutes to answer some questions for our AIA staff in Ohio. He shared how God has met them along this journey and how they are feeling as they walk this road. He also shared some specific prayer requests. Please watch this video and intercede on their behalf. They need our prayers big time. If you have prayer networks, please share their website and ask them to share it and so on.
In Exodus 17:10-12, the warriors of Amalek attacked Israel and Moses sent Joshua and his warrios out to fight back and said, "Tomorrow I will stand on the top of the hill with the staff of God in my hand." That day  Moses, Aaron and Hur went to the top of the hill and Moses raised the staff of God. Whenever Moses held up his hand, Israel prevailed in the war, and whenever he lowered his hand, Amalek prevailed. It says in verse 12 " But Moses' hands grew weary, so they took a stone and put it under him, and he sat on it, while Aaron and Hur held up his hands, one on one side, and the one on the other side. So his hands were steady until the going down of the sun. And Joshua overwhelmd Amalek and his people with the sword." Ben and Susie are in a battle for life... for not only Susie's life but for the life of the little child growing in her womb, for his health. Let us be Aaron and Hur and help them hold up their hands so that they may prevail in this battle!