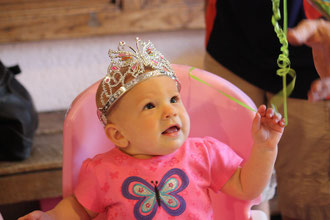 Well, one year ago today, our little princess came into this world! I can't believe that it's already been a year since she was born. And we love her to pieces. She is one happy little baby with THE BEST facial expressions! She has a habit of stopping John and I dead in our tracks as we intently watch the funny and crazy things she does. She loves to talk on the phone with her brother's pretend phone... absolutely hilarious. She loves to get in the middle of her brother's races around the house (she's still trying to catch up to them although she is completely walking on her own already). She LOVES music... playing music on the piano, banging on the drum, singing in the microphone or just bobbin' to the music. She's a cuddly little gal too! I just love how she enjoys sitting on our laps and peacefully laying her head on our shoulders... not just for a few seconds, unlike the boys who were just way too busy, but she seems to just enjoy the comfort of being in mommy or daddy's arms. And oh... she has a special sweet spot for her daddy. There are times that my lil' girl would rather be in daddy's arms than mine... She is already daddy's lil' girl. I love it. 
Anyway, before I get all teared up, we had a great day (well, actually three days) of celebrating. Friday we took her 1-year birthday party to the prison to celebrate with Julio. He really wanted to be out of prison to celebrate with us so we decided to take the party to him. John's parents flew in town a few days ago to celebrate with us so them, us and our AIA Stinters headed into the Puebla prison with a cake. I have to tell you it was memorable. Julio paid one of the other inmates to play a traditional mexican birthday song for our little princess. The sweetest moment was listening to all the inmates hanging around along with their visitors singing the song to her... and Lucia watched the guitar player intently with her head on my shoulder. Just sweetness. 

And I was incredibly touched by a gift with got from one of the inmates and his family. If you remember John and I had brought over some toys for Christmas for one of the inmates family (5 children!)... they showed up at the prison to celebrate with the cutest little outfit for Lucia. I was touched. Totally unexpected. It was defintiely a special celebration for our little girl. 
Yesterday we had a little 'family' party. It was special because not only did a number of our sweetest friends came, but if you have been following along on our blog, Julio's parents and his little sister came along with Julio #2's wife and daughter (Julio #2 is the inmate that John gave the Evidence That Demands a Verdict too). We are truly blessed to know the people we do! 
Anyway, happy birthday Baby Girl. You make our family that much brighter and you bring so much more laughter to our home. I pray that your heart would always remain as tender as it is now and that your heart would passionately pursue Christ. I pray that in the Lord you would find strength, find comfort, find joy that would keep you smiling no matter what circumstances come your way. I pray that your beauty would go to the inner most part of your soul and that you would guard your heart carefully against the evils of the world. I pray that the Lord would one day bring you a man of God as wonderful as your daddy and that you would one day feel the preciousness that I feel when I hold you in my arms! You are loved Baby Girl. 
Here are some pictures of the last few days: