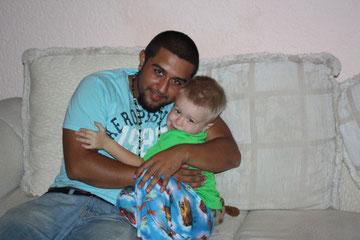 John and I just returned from attending Julio's court hearing (Thank you STINTers for watching our little munchkins for us!). Up until this point we hadn't really seen Julio 'behind bars'. We always met him in prision in an open room with tables and chairs. The way they do the hearing is quite a bit different than how things are held in the United States. Julio stood in a little room that opened up to an office area where we all stood to watch and listen. The 'window' part of Julio's room that opened to the office area had bars. This is where he spoke to the judge's secretary assistant (instead of the judge) who typed everything on the computer that Julio said, his lawyer said, and the witnesses said (all of which needed a lawyer present also). 
As soon as I saw Julio behind the bars I had to hold back my tears. Although he was in high spirits and grateful that this day was here, to see someone who has become a brother to me, standing behind bars with his freedom stripped from him just broke my heart. We stood with Julio's parents and a few of his friends as we listened. Of course, there always seems to be hiccups....
One of Julio's major discoveries he found in the last month or so was that the police officers that arrested him actually did so with an expired police licence! All of them! Apparantly this group of officers (who have been fired shortly after Julio was put in prison) was under investigation for corruption. Unfortunately, this evidence must have been put into the case YESTERDAY, the day before the hearing! Seriously??? We're not sure why Julio's lawyer didn't know that... (John is going to see Julio in prison tomorrow and talk in more detail with him about the hearing)... but regardless, they cannot accept that particular piece of evidence as 'official'. The good thing, by God's grace, was that the judge's secretary said they would 'take it into consideration'. Julio looked at us and said with a smile, "Welcome to Mexico." 
The judge now has five business days to make a final verdict... so we wait. We are asking everyone to faithful pray everyday until the verdict has been made, that God's justice would prevail here, that God would do what only He can do and turn the heart of the judge in favor of Julio.