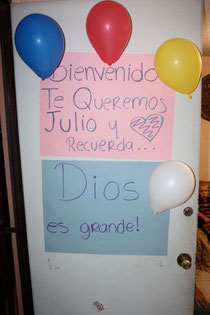 So tonight was a precious night! We got a call while we were eating dinner from Julio's mom, "Julio is innocent!! They are releasing him from prison at 7:30 tonight... do you want to meet us there?" Of course!! I shot up from my chair and began jumping up and down screaming!!! (You can imagine our children watching me do this... which of course, they followed suit... getting off their chairs and jumping and screaming like wild animals too depsite their lack of understanding at that point).... We had been waiting for this call all day! We made some calls to some people we know who have been praying faithfully for Julio and called our AIA team to join us in meeting up with Julio when he got out. As we were packing up the kids to head to the prison, Julio's mom called again and said they had let him out early so they were heading to Julio's parents house... and so we met them there with balloons and huge smiles! 
It was a precious moment to hug Julio.... outside of prison walls. 
Needless to say, this was definitely God's doing. We found out that this is the first innocent verdict for the crime he was accused of in TWO YEARS!!! Can you believe that??? The fact that Julio was found innocent is really a HUGE deal... We are so thankful for God's grace, His mercy and His victory in Julio's life. Thank you so much for interceding on his behalf. 
A friend posted this verse on their facebook page today... fitting for tonight:
"For the LORD loves justice and does not forsake His godly ones!!" Psalm 37:28
Amen... 
We asked Julio to share a few words to the people who have faithfully been praying for him over the past 5 months:
Here are a few pictures from Julio's gathering at his parents house...