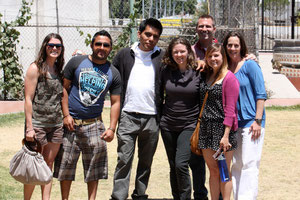 Two weeks since my last post... it actually felt a great deal longer than just 14 days since I last posted. For those that have been following along over the years, you know that prior to Lucia's grand entrance into our world, I probably blogged every three days! It seems that throwing one more little munchkin in the loop put a damper on my bloggy time. Anyway, John is actually out of town at a Campus Crusade for Christ student conference until Thursday and the kids are finally down. I thought I'd take a moment to fill everyone in on the gap.
First off, I'm excited to say that two special people are attending the conference with John along with all our other AIA staff. Julio and another friend that John has been discipling over the past year, Balta, are in attendance. You may remember a while back we shared pictures of Balta with the kids after his baptism. Needless to say, we are overjoyed that they are both attending and know that this will be an extremely powerful growing experience for them in their journey with Jesus. Please do pray for the remainder of their time. I'm praying they will be encouraged by being around so many other believers (there are about 70 in attendance) and that the word of God would pierce their heart like a double edge sword as the bible promise it does. 
We are also very excited to share that friends of ours we met here in Mexico that recently moved back to the United States have officially announced they are joining staff with Athletes in Action. John and I just think it's the coolest thing being that we met them here almost two years ago when we moved to Mexico and we'll be neighbors again in the coming months in Ohio! I was just so excited I had to share! 
We have also had a number of people ask us how the adoption is going. We are pleased to say that we are on schedule as we had planned. Our dossier is almost completed and all the paperwork is getting gathered. We are waiting on a few other documents to come in including the USCIS approval letter. Once we have all that in hand, we will mail everything to our adoption agency who will put the finishing touches, if you will, on it before sending it off to Nicaragua. Our hope is that the dossier will be in route on it's way to Nicaragua by the end of May. 
And along the lines of me being a single mom for 6 days, I wanted to share this blog post with you all. Terry is our neighbor. She's amazing to me. She raised four kids here in Mexico and has so much wisdom. She has such a beautiful heart not only for her family but for people. As I spend 6 days (4 left to go) as a single-mom of three CRAZY kids, this was a very encouraging post and a wonderful reminder that we are doing soooo much more than wiping noses and teaching manners... we're making leaders. Her blog is called Maturitus Cafe and this post is called It's A Process.