So we have all had those moments as a mom.... usually at the end of the day when the kids are finally fast asleep and silence finally fills the house. It's the time your mind starts to wander and reflect on the day.... and then it hits us like a ton of bricks. Feeling like a complete failure... I yelled too much today. I wasn't patient enough today. I didn't listen well enough today to my kids' needs. Why did I act that way? Am I really that tired? What am I teaching my kids when I respond in such a way? 
I actually had a rough week and one evening I decided to listen to week four of the motherhood DVD series I'd been going through with a few other moms... As if I wasn't feeling bad enough, the speaker says, "We are the gospel our kids read..." 
Now I felt horrible. I definitely am not portraying a loving, gracious, patient, and kind God. (I remember thinking I'm so thankful that God's mercies are new EVERY morning!)
It can be a lonely feeling. 
You see, I'm a yeller. I know there are moms out there that don't ever yell at their kids (but, I am not niave enough to think that they don't have their own flaws). But I hate yelling. I strive hard and pray hard that the Lord would give me the patience, the joy, the focus to not yell. And I have come a LONG way since JT was first born... but I still have a LONG way to go! Actually, I always say if I've gone an entire day without turning the TV on or yelling, it's been a wonderful day.
I notice I do it when I feel overwhelmed. Like when my itty bitty one year old is crying because she wants something (but I can't figure out what it is she wants), while my three year old is throwing a tantrum because my 4 year old took his Bakugan and my four year old continues to repeat, "Mommy! Mommy! Mommy!" over and over again trying to get my attention so that I would watch him re-enact something he did that he thought was funny.... while at the same time I'm in the middle of trying to get dinner ready and trying to figure out why the microwave won't function the way it's suppose too. This is the time I usually loose it. Especially if it's been one of those days in which this type of scenerio has happened a number of times and the coffee, no matter how much I drink, just doesn't seem to be kicking in.
With that being said, I appreciate and value friends that make me feel not so alone. I shared a blog a week or so ago by one of our friends who is our neighbor. She raised four kids who are all 18 or older now. From what I see and hear, she did a pretty good job.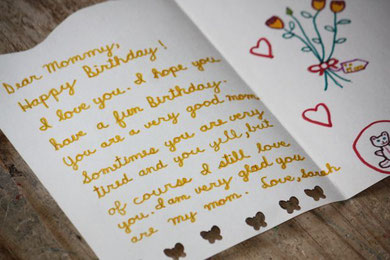 The other day her husband showed up at our door with a little encouragement for me.... He said, "Terry wanted me to share this with you..." It was a cute birthday card written and designed by her oldest daughter probably around 4th or 5th grade that said, "... I know sometimes you are tired and sometimes yell, but of course I still love you." It really did bring me comfort that I needed that week. A reminder of a quote I recently read that said, "I am thankful that no single day defines my impact/influence on my children. My influence is created over the years. It's developed in the relationship that I have with my kids." Amen to that!
Sometimes I can glamorize my other mommy friends feeling like that have it all together.... they are the perfect mommy... they never get frustrated, or if they did, they handle their anger appropriately. They give thier children all their attention with joy, patience, and love. Their children never battle them because they have 'trained them' well.  And if discipline is required, they do so with perfect unquestionable calmness and joy. Uhg.... I am SOOOOO not one of those mommies. 
Now I don't think I'm a horrible mom... but I know God is still working on me and there are days I feel like it's a long hard road at becoming that woman. There are many nights I go to bed thinking that I'm so thankful God is not finished with me yet in completing the good work he started (Phillippians 1:6). And if nothing else, I've taught my kids, "Mommy needs Jesus too".
Anyway, It was encouraging for me to know that even though Terry, who I admire as a mom, wasn't perfect either and her kids turned out great! They really do have an extremely sweet family. 
Thank you Jesus that you aren't finished with me yet... and thank you that no one single day defines my impact on my children.
Thanks Terry for being real and sharing your mom experiences with me!