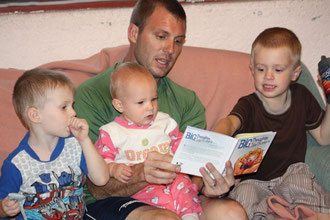 Obviously as Christian mommies, our desire is that our kids would one day choose to put their faith and trust in Jesus Christ. For John and I, our desire is not just that they would fall in love with Jesus, but they would have a good understanding of the foundational teachings of our Christian faith... even at a young age. But lets face it, some concepts like the trinity are pretty hard for us adults to even grasp, let alone explain them to a preschooler. Big Thoughts for Little Thinkers is a four-book series of books that introduces preschool and elementary aged children to these foundational teachings. 
We actually have featured these on our Kidz Korner page, but I think so highly of these books that I thought I would highlight them in a blog. In each book, a precious character shares their understanding of the topics including the Good News of salvation (The Gospel), God's worldwide plan to call people from every nation to worship Him through Jesus Christ (The Mission), understanding what the Word of God is (The Scripture), and the Christian doctrine of one God who exists as three persons - The Father, Son, and Holy Spirit (The Trinity). 
We bought these books about 2 years ago and our four year old still asks if we can read them to him.