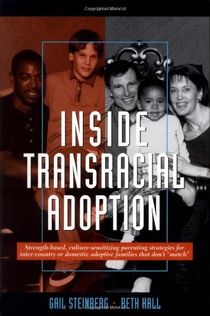 So I've been on this 'reading kick' since I left for the United States. Prior to having children, one of my favorite things to do was curl up with a good book and a starbucks coffee... for hours. Now-a-days this is a very rare event that occurs in my life. After getting some really good read time on the plane, I just can't seem to stop making time. Anyway, I just finished my fourth adoption book - if you include the book Kisses From Katie - which I have previously written about. No, this is not another blog about that book, although let me just say that there are A LOT of things I could have written about. I know, you are thankful I don't have the time. 
Anyway, I digress. I picked up another book recommended by our agency titled 'Inside Transracial Adoption'. I love books that make me think, challenge me to reflect on what I view as right or what I believe to be true, and books that encourage me to see things from another's perspective.  I am enjoying this book so I thought I would share a few rambling thoughts... in case you are interested. I'm sure I will be sharing, if time allows, a number of thoughts as I finish this 400 page book!
Okay, so let me begin by saying that despite the fact that I live in Mexico, despite the fact John and I are both very familiar with the Latin culture, and despite the fact we actually just took a class on 'Parenting in Latin America' offered by our agency, after reading just the first few pages of Inside Interracial Adoption, it dawned on me for the FIRST TIME that when this adoption is done and finalized and that sweet little child is officially and legally ours, we will be a transracial family. (Ironically, It also dawned on me for the first time, that I come from a transracial family... my mother is 100% Portuguese and my dad is American).
Now, that might not mean much to the average Joe, but as I continue to read about adopting particularly from a foreign country, it is a bigger deal than one would expect. Not only will our little girl struggle with the emotions of losing her family, but she will have to come face to face with having being raised in a culture that is not 'her own'.
Wow.
And we, as her parents, will need to be aware, need to be sensitive, need to love (this word will need to be specifically and intentionally defined), and the list goes on. She will face things that I never had to deal with. She will confront issues that I never had to embrace. She may be looked at differently or she may be treated differently even if she raised by 'white' people. 
"Before I was adopted, I was separated from two families - my birth mother's and my birth father's. I was also separated from my culture and my race. These losses have been huge. People interpret honest talk about them to mean that I wish I weren't a part of my family. OR that I am not connected. OR maybe even that my mom and dad did something wrong by adopting me. OR that I am not grateful. But you know what, i am not 'grateful' that I had to be adopted. I don't feel 'wonderfully lucky' that I was raised in a culture different from the one I was born into. What I do feel is that I love my mom and dad very much. I do feel totally connected to them. I wouldn't trade my family for any family in the world - and still I know what I have lost." -Liza Steinberg Triggs
As I read this, I pictured our little girl saying this one day. If I'm being honest, it made my heart ache a bit. It is something I will never be able to relate too having been raised in my own culture and race. As I was sharing this with John, we started talking about the very real truth that none of us really belong here. Like C.S. Lewis once said, "This is not our home. We're just passing through." 
We were not born for this world.... This is not our culture. This is not our home. Heaven is. Being with Jesus is. 
But for our little girl, she will feel this in a very real and tangible way. 
The only thing I could compare this too is our financial situation as missionaries. Here is the very real truth... God provides for everyone. If you have a government paying job, God is still providing through that government. But, many times, having a company funded job can make one feel secure in that position... almost as if having that job is where financial protection is.
For us, there is a possibility that we could have a smaller paycheck one month if support happens to be low or if support happens to come in a month or two or three late. Sometimes our ministry account is healthy and sometimes, John and I need to shift into 'support raising' mode. 
Sometimes we can feel the weight of trusting God with each paycheck that we get. Some months we get a few phone calls from present supporters letting us know that for various reasons, they need to discontinue being a part of our ministry team. And yet other months we may get a few random calls from people saying that want to join our team! It literally is a trust in God's sovereignty over our finances on a daily basis. 
For us, as missionaries, we feel God's provision in a very tangible way. And like this, our little girl will feel the sense of 'this is not my home' is a very real tangible way. 
I don't really have a major point here... I'm thankful that I am an adopted Child myself in God's family and prayerfully because of that, John & I may be able to assist our daughter through the emotions she will encounter on her personal journey of identity.