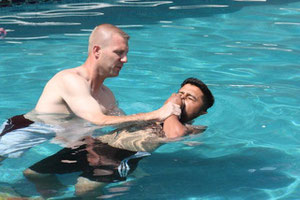 So Julio got baptized today! It was definitely an exciting day of celebration.... especially since he is the first Rebolledo to do so as an adult.  It was even more exciting, and an answer to prayer, that his parents were in attendance. A month ago, being extremely Catholic along with holding some strong superstitions of bad things happening to people who are baptized twice (once as an infant and then again when they are older), Julio's parents were not in support of his decision to get baptized. This really made Julio's heart ache as he wanted his parents to celebrate his decision to publically express the inward change that has occured in him over the last eight months. 
About three days ago we told Julio to pray first and then talk to his parents. We encouraged him to simply share his heart with them and ask that they be at his baptism. Julio called us back the next morning excited to share that his parents, although still hesitant on his decision, would support him in it... explaining that they trusted John & I and they trusted the positive influence we have had on Julio. 
With that being said, as Julio and John stood in the pool I couldn't help but get teared up. It has just been an incredibly sweet journey with Julio over the past two years... To see the amazing change in his life... to see him trust Jesus more and more as he continues to give every part of his life over to Christ. It has been fun to see him already share the Good News of Jesus with his friends and to bring a new person to church almost every week. It has been fun to see him share his fears and concerns and yet at the same time step out in faith and trust God to provide for his needs. And it is even more exciting to see his face everytime God provides for him in an amazing way. 
Julio calls me his American mom.... although recently he has been calling me his American sister (being that I keep telling him I'm too young to be his mom!). But if I'm being honest, sometimes I do feel like Julio is one of my boys. He has become a sweet part of our family that I would do anything for. I have a strong burden to pray for him and I take great joy in seeing him be a light to the darkness around him... to be a light to his own culture.... to see him take steps of faith. 
If I'm being honest, leaving Mexico in a month hurts because I feel like we are leaving behind a piece of our family (although he isn't the only one I want to cry about every time I think of July 10th). 
If I'm being honest, although I'm sad, I'm confident in leaving Mexico because I know that Julio will passionately continue being a light here and continue what we have started in the athletes on the university campuses.
If I'm being honest, this American mom can't wait until the day there is no cultural gap... there are no good-byes... and all those that have left footprints on my heart will be together, speaking the same language and worshipping Jesus together with joy in heaven. 
With that being said, I am proud of Julio. I'm proud that he stood today before his friends and family and in obediance to Christ was baptized. 
Anyway, these are just a few confessions from a proud American mom. We love you Julio!