I know John briefly mentioned this is our newsletter email distribution, but I wanted to write a quick simple blog saying it again... Two of our very own UDLAP players from Puebla, Mexico boarded a plane this morning to participate as a player on one of Athletes in Action's sports tours! We are totally stoked! 
Alice is a volleyball player from UDLAP who has been meeting with a few of our stinters since last January. She is a Christian with a huge heart and a big personality! God did some pretty amazing things in order for to be able to be a part of  Athletes in Action's volleyball tour heading to Costa Rica including getting her support raised in only THREE weeks and after being told she couldn't get her VISA to travel, God miraculously provided a way! On top of that, UDLAP was worried about her scholarship, about the possibilty of her getting hurt on the tour and missing team practices for three weeks. But, yet again, God changed hearts, and she was given the green light to go! We are praising God for his grace in providing her the opportunity to use her volleyball skills to share the Good News of Jesus Christ in Costa Rica! She will be returning to Mexico June 26. Please be praying that she would not only grow in her faith, but that she would grow in her ability to evangelize.... That she may return to Mexico with more boldness, confidence and passion in sharing Jesus Christ in both words and deed with those here in Mexico!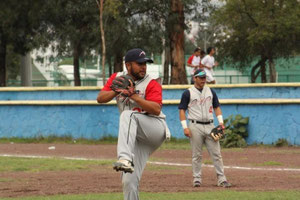 And early this morning Julio headed to Mexico City to catch a plane to the Domincan Republic, along with one of our stinters, Joe Durham who is a returner from last year's AIA Mexico baseball tour. They are heading straight for the DR to meet up with the rest of their team. We cannot be more excited for the adventure that awaits them as they play baseball with the hopes of changing lives for God's glory. We are praying that this will also be a growing experience for Julio. As a side note, Julio called us late last night as he was packing and preparing for today just to say thank-you for all that we have done and that he would miss us. Julio is sometimes shocked when he even looks at his own life now and has told us before, "This is something I would have never imagined I'd be doing." We are overjoyed with all the Jesus has done in his heart. 
Thanks again from the bottom of our hearts for all who have been praying for us, for our minsiter here in Mexico and who have faithfully walked this journey with us! God is good! 
Please be praying for both Alice and Julio. Our prayer is that they would grow even more in their faith and that this tour would be life-changing for them.  As we pray for them over the next few weeks, we wait with anticipation for their return to hear all the amazing things that they experienced!