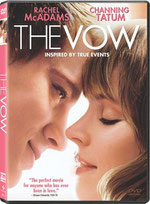 So, one evening a few weeks ago when John was at a meeting, I decided I would rent one of those sappy movies that are often better to watch alone, if you know what I mean. I ran across The Vow (trailer) and decided I'd give it ago.... LOVED it! I wouldn't say that I balled my eyes out, although I am the type of person who would, but I was so struck by the reality that IT ACTUALLY HAPPENED! 
If you aren't familiar with the movie, it's basically about a couple who fell madly in love, got married and two months later was involved in a tragic car accident. They both survived but the gal was left with permanant amnesia and it seemed the only part of her life that she lost was her entire relationship with her husband. She awoke from her coma not even believing that she was married.... with no recollection of her even meeting her husband!
Wow. Can you imagine?
I had posted a status update on facebook just sharing that I had seen the movie and loved it and a friend suggested I read the book... so I did. And boy, was she right! 
What I discovered was that not only did this REALLY happen (and apparantly was all over the news all of the world years ago), but that this couple was/is a strong Christian couple, Kim and Krickitt Carpenter. God was the reason, depite Krickitt's lack of knowing her own husband, that they pushed through all the hardships of rediscovering their marriage. Their faith in God and His view of the wedding vows they made back in 1993 was the motivation that led them to choose to rediscover their love for each other even when at times all they did was fight. It's a pretty fascinating story and a really quick read, so if you get the chance to read it, I would challenge you to do so.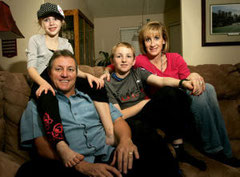 Of course, me encouraging you to read this sappy, but very inspiring story about commitment and perseverance amidst tragety, hardship and heatache, is not my primary reason for writing. James Dobson wrote an article years ago when this couple decided to have a second wedding after the couple spent time 'dating' again that I thought was aboslutely perfect. 
We all know marriage is hard. We all know that marriage can take some pretty unexpected twists and turns throughout life and we can sometimes feel like our marriage is drowning, but this couple against all odds, they fought to keep it together. And when they could have easily justified divorce saying the couple that got married died in the car crash or because the person Kim loved no longer existed. But, instead they chose to keep their vows. Dobson wrote:
"In this day when the culture teaches us to bail at the first sign of frustatrion or pain, it is uplifting to see this young couple work to recapture what they had lost and to remain committed to each other even in the face of tragedy. Their example will, I hope, be relevant to many of my readers who have lost the passion in their marriages - not as a result of brain injury, but from whatever has driven them apart. Perhaps Kim's decision to win Krickitt's affection anew will be especially helpful to those who have misplaecd the 'memory' of love. If you have been considering a divorce, wouldn't it be better to begin courting your spouse again and seeking to rebuild the marriage from the ground up? That is never easy and I'm sure Kim and Krickitt have not yet faced their final challenges. But it is the right thing to do, and ultimately, the most rewarding response for disengaging husbands and wives. And it is definitely in the best interest of the children. 
Let me conclude by offering a word of advice to young men and women who will be joining hands in holy matrimony during this summer.... I urge each of you to enter into marriage with an unshakable committment to make it last a lifetime. Let nothing short of death separate what is about to be consummated. When the hard times come (and they WILL come), I hope you will remember the story of Kim and Krickitt who are weathering the storm together - hand in hand and soul to soul. That is God's plan for the family - and for your family." -James Dobson, June Newsletter 1994
Here's a short newstory I found with Kim and Krickett right before the release of their move.