Sooooooo, the last few weeks have flown by at lightening speed. We began packing our house up little by little the first of June after my parents left and when I looked at the calender the other day, my jaw dropped realizing in two weeks we'd be leaving. So our trailer looks like this at the moment: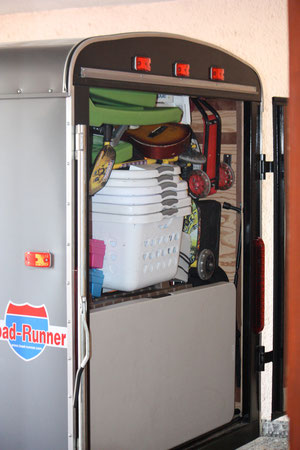 There is very little left in our house (that belongs to us, that is... since the house came fully furnished includsing dishes, towels, etc). We had one trailer trial run pack and realized we had to consolidate and get rid of alot of stuff. We began the list of things that fall into either the necessity column, the 'I really want to keep this' column, the 'hope' column and the 'it's gone' pile. I'll admit that it's actually kind of freeing to have an excuse to get rid of those things you don't really need but are keeping around 'just in case'. Anyway... two weeks. Wow. 
So, thoughts on leaving? Well, I really haven't had much time to think about it since between the kids and packing my days are full. And then, if you throw the arrival of the AIA women's basketball team on top of that, there hasn't been ANY room in this brain to think about the fact that in 14 days we'll be, once again, boarding a plane and saying good-bye to a place we've called home for the past two years. 
So, since I haven't had any real worth-sharing kind-of thoughts on leaving, I'll share how amazing the women's basketball tour has been! 
Because of finances, only four gals ended up coming as a part of the Mexico team.... but fortunately, God has provided the completion of the team through people already here in Mexico. The team,  including all of our AIA stinters,  recruited two other former UDLAP basketball players to join them and well, the team ain't too shabby! 
I've been really impressed with our stinters and how they organized the entire three weeks. The first week and a half has been super. The girls have already gone through three of the AIA principles, participated in an outreach at Casa Verde, loved on some kids at a local orphanage, rock climbed, played a few scrimmages, practiced alot, practiced some more and Saturday the team had an exciting day of hiking and white water river rafting. The days have been full of impactful conversations and alot of sweat!
 I've had the opportunity to participate in the team times and join the girls on their adventures , thanks to my amazing husband who has joyfully taken on the role of single-parenting during those days! It has been so much fun getting to know the girls and seeing them be impacted by what they are learning in every way, shape and form. 
Have I mentioned how much I LOVE what we do?! What a joy it is to combine our love for God, people and sports and live that out on a daily basis! Thanks again to all of you who have faithfully supported us over the years! 
If you would like to continue following the girls for their final week and a half, you can get updates here. I've included a few pictures below of our adventure over the past week and a half.