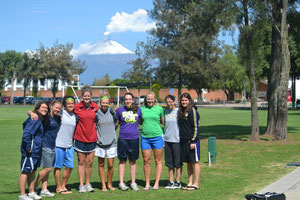 We are proud to share that the girl's are 2-0 in the big tournament. It has been so much fun to watch the girls play... not only because they are winning (which is always a bonus), but for a number of reasons. First, the girls are learning to play with the AIA principles mindset - Playing for an audience of one, letting their intensity be a thank-you performance, exhibiting self-control and thought when bad, unfair or downright wrong calls are made, etc. We have seen a huge difference in the girls' attitudes (not that their attitudes were horrible before... but playing with a Jesus' mindset always makes a noticeable difference). Secondly, and I like how Katie, the coach/player/stinter put it in her blog:
"There is a lot of buzz going around this tournament and lots of questions are being asked in light of it.  I pray, and ask you too, that all the things surrounding the tournament are used for the advancement of God's great name.  That people would not look at us as just another basketball team, but see that we have been marked with a seal and set apart as God's children, playing not for expectations, points, fame or wins- but only for the glory of our God as we love one another and the Mexican athletes."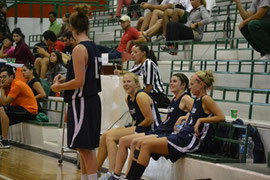 Last night after the girls returned from dinner back to the dorms on UDLAP's campus in which they are staying, about six players from the other team were waiting for them. They hung out with the gals for a while and many of them got to explain the team's motivation as to why and how they play for the glory of Jesus Christ!!! 
We are so thrilled by what God is doing in and through this team. Knowing that we are leaving in 11 days can bring tears to my eyes but I am also confident that God has begun a good work here in and through these Mexican athletes... and I am also confident that He will finish what He started. Not only that, but we are so thankful that Marnie, Erica and two new stinters will be conitnueing the AIA ministry started on these campuses!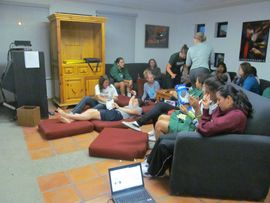 There is already excitement about possibly sending other teams down to Mexico next year to compete in other tournaments. We are overjoyed for sure! Please continue to pray for the girl's final week... their ministry, and the lasting impact they will have once the team leaves on July 2. Thanks again for your faithful prayers and support. We are feeling the strength and might of each and every one of them!