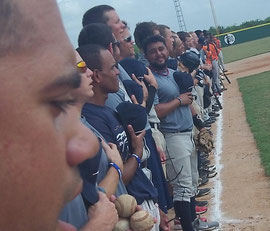 So two days ago, Joe and Julio returned to Mexico from their AIA baseball tour in the Domincan Republic. The night he returned we had the opportunity to chat with him and I've never seen Julio so excited about sharing all that he learned and all that he experienced during his three weeks with the team. It was as if he couldn't get all that he wanted to say out fast enough. 
Yesterday I sat down with him to pick his brain a little more so that I could share with all of you who have invested in his life over the past year or so whether through finanical giving or prayer. So here are three questions I asked him:
1. How did this tour to the DR change your view of what a Christian is and how a Christian should act? "This trip showed me it's not just about studying the bible but we need to give life to the words of Jesus. We need to put into practice the things that are in the bible. I learned a lot of things from the guys that were raised in Christian families. I use to think that Christiains didn't have a life, but I learned that they are real and when you really love Jesus, you do it with your heart. It's better than the life I had before."
2. What is one story or highlight or maybe one person that you met (either from the DR or from the team) that impacted your life? "The Domincan Republic as a whole impacted my life. All the people was my highlight. The people of the DR don't want to take from the American people, but instead they want to give in hope of receiving love. Specifically one boy named Christian, who I met on the beach. He is 11 years old and working for his mom selling gum. I could identify with him in so many ways. When we arrived at the beach he wanted to give the gums to us for free so he could hang out with the team. As I got to know him I gave him a $50.00 bill and asked him to exchange it for me. He took off running as fast as he could. The guys with me were convinced that he stole the money. Thirty minutes later though the boy had not returned. We were just about to leave the beach when he came riding back on a motocycle screaming, "Wait wait wait!" All this boy wanted was to be loved. I got to share Jesus with him. He was an honest, hard worker with a really good heart. He wants to grow and I want to help. I wanted to help these young boys and give them hope. I wanted to help them understand that they did not have to make the same mistakes I made growing up and that Jesus was the answer."
3. Do you think this trip to the DR gave you a greater passion for Jesus? If so, why? "Yes! The real thing that helped me was hanigng out with all the players on the team. The AIA players felt that it doesn't matter if you don't speak the same language. They wanted to do something for the people of the DR because of Jesus. They wanted to play baseball for Jesus. In the past, when someone said, "I do this for God", I never really understood that. Now I do. This trip changed alot of my thoughts and thinking.  
God was working in a couple different ways in my life. First with the team- this was the first time I'd really been around Christians, in a Christian environment. My friends in the past were all about sex, drugs and partying. Before, along with my friends, if we did good things, we thought we could do whatever we wanted. We could drink, for example, and then confess it to the Father. In essence, we thought Jesus would adapt to us but now I have learned that we need to adapt to Jesus. It's not so much following the rules, but we don't want to hurt Him or we don't want to grieve the Holy Spirit. 
Something else I understand now is that if I do bad things, I am hurting Jesus. If I think of everything He did for me on the cross, that doesn't make sense. 
I understand now that we can have cars or other things, but if we don't have Jesus, we really don't have anything. 
I have a lot of struggles, but I want God to work and clean those struggles in my life."

Thank you again to all of those who have faithfully prayed for Julio's spiritual journey. Julio and John will be driving to the US together on July 11th and Julio will have the opportunity to share his testimony at El Camino in Dallas, Texas that following Sunday! Please continue to pray for him as He shares how Jesus has changed his life! 
Here are just a few photos from his trip.