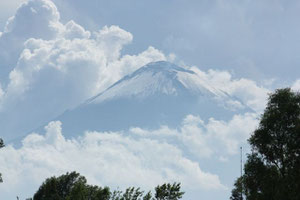 So this will be my last post on this side of the world. The past week has been nothing short of emotionally and physically draining as we have scurried to tie up loose ends of our life here over the past two years. A few days ago we had our AIA Mexico team over to spend some time affirming, appreciating and loving these people who have not only been our co-workers but have been our friends who have blessed our family in so many ways. It was a sweet evening but did not come without shedding alot of tears. Our amazing team prayed for us, our travel schedule ahead of us and for our future as we, yet again, embark on a new journey in another place. 
Not only that, but we had a few other 'incidents' occur that increased our stress level (i.e. a few days ago a valet parker who did not have car insurance backed our car into another guys car who also did not have car insurance. Fortunately, our car was not damaged but it was a fiasco, some people moving a desk for us to the stinters' apartment picked it up wrong and broke it, and we discovered a week after we had our trailer washed, someone did not read (obviously it's in English) the sign that said, "Do not step" on the wheel protectors and pulled one of the screws right out... just to name a few). And then this morning Lucia woke up with a pretty bad fever.
Needless to say we are ready to get this show on the road! 
So, our internet is officially turned off at the house. The last of the bills have been paid. Our belongings are packed and the house is back to the way it was prior to our arrival. I headed to starbucks to use their internet to post one last prayer request blog about the upcoming days and to grab a few snacks at the store for the kids on the plane. 
So, with that being said, we ask for all those prayer warriors out there to be in prayer for our little family over the next couple days as we begin the treck home. The kids and I will be leaving tomorrow at 10:30AM on a bus to Mexico City to catch a 3:30PM flight to Dallas. Then John will leave on July 11th, the next day, at 4:00AM with Julio and hopefully make it to the border before 6:00PM the same day. Here are our prayer requests:
1. Please pray that my bus trip and the flight to Dallas will be uneventful with the kids. I'm most nervous about getting through customs with 3 cars seats, 4 pieces of luggage, 2 carry-on bags, 2 little boys carrying their own carry-on bags, and a stroller with a one year old! I probably will look like a three-ring circus freak show... but it will make for a good story later, right??
2. Please pray for John & Julio's saftey as the drive. Specifically we are praying that God would protect them from any car troubles, any corrupt police officers, and any other unforeseeable issues that could arise. 
3. Please pray for our little princess. Her fever was pretty high and thus far it has come down a little bit with tylenol and cool rags on her neck and forehead... but she's pretty miserable. We are praying she will be better by the morning. 
Thank you! Thank you! Thank you! We appreciate all of your prayers... for all the prayers that have gone up over the past two years for our family as we have lived in Mexico. Know that you have made a difference not only in our lives, but in those here in Mexico! We love each of you!