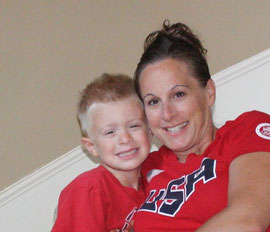 Five years ago today our world completely changed with the sound of a sweet little cry. The moment we heard that cry... I knew that God had blessed us far beyond anything we could have ever imagined with a little miracle. 
JT is a sweet spirited little boy who is still passionate not only about Lightning MacQueen, Optimus Prime and Disney's Waterworld, but he is passionate about learning and passionate about 'doing it myself'.  He loves to be read too and he loves to tell stories. He is a boy who loves to be around people, but he also loves playing alone (he's a bit like him momma that way). Sometimes as I sit back and watch him, there are moments when I feel overwhelmed with how quickly his years of life have gone by. There are moments when I see little glimpses of him as a teenager and I'm not afraid to admit how freaked out that makes me :-). I am thrown to my knees in prayer for his safety, his protection, his future, his salvation, etc.  He has brought my heart so much joy and I'm so proud to call myself JT's mommy! 
Tonight, since daddy was out of town, JT and I went out on our first real date. I told him we could go on a date a few days ago and he had been waiting for this evening with great anticipation. His restaurant of choice was McDonalds so we enjoyed a sweet time of chatting about the United States, about Mexico, about cartoons and about cousins and birthdays while munching on fries and nuggets and sippin' our fountain drinks. He was such a little gentleman, holding the door for me and insisting on paying (with my credit card, of course, that I let him hold in his pocket until we sat down to eat). The Lord knows he gets that southern gentleman attitude from his daddy.... I'm thankful. Then we went to the store and JT was so excited to get the opportunity to slowly walk the aisles (without hearing the usual, "FIVE MINUTES GUYS!") and pick out one gift. When I pulled up into the drive way, he said, "Mommy, I had fun on our date. Thank you" and he gave me a kiss before jumping out of the truck. Gosh, I love that kids to pieces!
We actually celebrated JT's birthday last week since his cousins were in town...and we did so 'lego style.' It was a joy for JT to be able to celebrate turning the big five with them. His excitement was truly contagious. Here are a few pictures from his party: