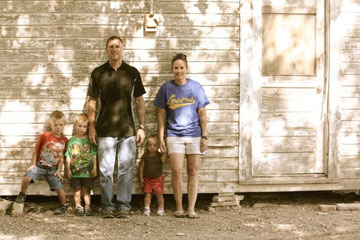 So, the summer is almost to an end and it has been incredible crazy on our end of the rainbow. Sitting down to share all that is going on has been nearly impossible. As you probably read in our latest newsletter, after enjoying a 'sort-of-kind-of' three week vacation adjusting to the US and figuring out some sort of (but not really) routine in Abuelo and Abuela's house, John and I flew to Ohio to house hunt with out kids. The first day and a half wasn't exactly the most successful despite the fact we looked at something like 20 homes! But, God is so faithful and we finally found an area we love and a community in which we are extremely excited about being a part of. We signed a contract and will officially move in sometime late January or February.
It's actually very exciting to think that this will be our home for a long while, God willing. Our hope is to grow some roots in the community and allow our family to flourish in one spot for a number of years, so this is a unique feeling for me - to know that the address we were given is one that the kids will be teenages in and prayerfully grow into adults! This is the first time in a long while that I haven't had in the back of my mind, "Don't get to comfortable because you'll be moving in a few years."
Since we won't be moving to our home until January, while developing a game plan of where to plant our family in the mean time, we spent the last 5 days in New Mexico with family. It was fabulous. Not only did we get to visit with some amazing friends and supporters, but it was a blessing to watch the kids run wild on the farm and explore God's beautiful nature. 
Upon our return and contemplating a fabulous offer from my parents to live with them for four months, we decided we would accept! We had tickets to see my parents for a couple of weeks on the 28th so we decided we'd just move our return date back and spend the rest of the year in Connecticut! I would be lieing if I said I wasn't a teeny bit excited about the opportunity to spend so much time around my family.... and really overjoyed for the opportunity my kids will have to be with grandma and grandpa that long! ( I would ALSO be lieing if I said my parents won't need a few prayers to survive the chaos of the McLaughlin family! ha! ha!)
Well, with that being said, it has been a whirlwind of adventure over the past month and a half and we know God has a great deal more instore for us. John will work from Connecticut with AIA baseball and probably make a few trips out to Ohio. He'll also be working full-time on support. As I also shared in our most recent newsletter, we were given a new support total due to the move back to the US so we would appreciate your faithful prayers that God would provide! We are praying that God would provide a number of new individuals and families that want to partner with us in using sports as a platform to share Christ and be a part of our support team! 
And that is our update. I have so many other thoughts as I have wrestled with again, a new normal... as I have gotten to see people I haven't seen in two year and some in four years... as John and I finally get to sit next to each other in church again while someone else cares for our children (we haven't had this hardly at all, let alone consistantly, over the past four years)... as I have walked down the grocery store aisles and thought to myself, "You can get THAT in a box now??? REally?"... One of these days I'll get back to blogging regularly. 
But for now... That's all I got! Thanks again for those of you who have joined us in this crazy journey! We are truly blessed!