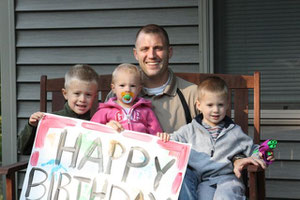 Wow. It's been over a month since I've hopped on our website. It seems that as soon as we moved in with my parents, life just seemed to cruise along. I can't believe we have already been here in Connecticut for over a month! If you haven't gotten the chance to catch up on the phone with either John or I, here are a few of my random thoughts of the last month:
1. I have developed a new appreciation for the fall weather and probably for the first time EVER in my 35 years of life, I'm looking forward to snow. I love the smell of the cool crisp air and the beautiful colors of the changing leaves. I'd say my excitement about the snow is wrapped up more in my excitement to watch the kids in the snow... they continue to ask me, is it going to snow soon? I would say after living in Texas and Mexico for the past four years, they are excited about seeing the ground covered in white!
2. Living with family, yet again, reminds me that home is where we are together. When I mention to people that we have moved states/countries every two years, and lived with John's parents in transition three times and now with my parents, people always ask about the kids... "How are the kids handling all the transistion." To be honest, I don't think they know any different and they handle it like champs. They are seasoned travelers and have learned that home is just wherever mommy and daddy is. They have had some pretty amazing opportunitites to be loved on daily by some pretty amazing grandparents. There are moments in which it is challenging for all of us, but the blessings outweight those by far. I just have to believe that when the kids are older, they are going to have some pretty vivid memories of living with Abuelo & Abuela or Papa and Grandma..... fond memories they will always cherish and carry with them.
3. Homeschooling is going pretty smooth. JT started kindergarden this year. I would say there has only been one week out of the 6 since we have started that I started to doubt my decision... but we have finally gotten into the swing of things and I finally found a groove (but not without encouragement from some of my homeschooling mommy mentors!) I am reminded of the opportunity I have to invest more deeply into my kids lives and I love how it allows me some freedom to be creative with them. 

4. The adoption is moving along... we are still waiting for hear from the governing adoption agency for official approval so we can begin our official wait for a referral. In all honesty, I have some 'anxious' moments in which I wonder if something is wrong because we haven't heard anything. I know that international adoptions are long... and often times, things go not as expected... so I MUST give it to the Lord. John graciously reminds me often, it is all in God's timing. When the Lord is ready, He will move things along. There truly is a comfort in being reminded of that... and knowing it calms my heart when my excitement wants things to rush along a bit quicker than they are going.
5. Little Lucia is a talker now. I love it. She's definitely the center of attention with her sassy little looks and her contagious smile that seems to light up the entire room. Now she just melts everyone's heart as she says, "bye bye" or "bubbles" or when she tries to repeat everything we say. Oh, how we love that little princess.
6. Hudson got stitches.... again. I predicted it when he was little baby. His personality reflected a mischievious dare devil that would probably get to know the ER doctors well at our local hospital. My little middle man thought it would be fun to try and jump from JT's bed to his own... unfortunately he miscalculated the distance and ended up needing three stitches above his eyebrow. Poor little fellow. He did fabulous though and the ER nurses and doctors were extremely impressed with how he handle things so calmly. He didn't even shed a tear until the second lidocaine needle went in. I would be lieing if I said I'm not a little bit nervous about his teenage years. (As a side note, this was the THIRD time we ended up at the doctors in two days... The previous day we had to take JT in because he thought he might have been getting croup and that same evening, I slipped on the stairs and landing directly on my tail bone.... for which I am still recovering from). 

7. I'm still washing dishes by hand. My mom has a perfectly fine dishwasher but old habits die hard, right? It's not exactly an 'old' habit, per se, but I find myself after not having the luxury of a dishwasher for two years in Mexico, feeling like it's just quicker to wash them by hand. I kind of laugh considering the kicking and screaming and crying I did over my struggle to adjust from having a dishwasher to not having one when we first moved across the border... and now I'm hooked.
8. Which brings me to my next thought... I'm still not over all the STUFF you can buy at the grocery store. I mean, I've only been gone two years, but I still find things and I'm like, "Seriously? You can buy THAT in a box now?" Nothing is made from scratch anymore, huh? Well, this mom is still hooked on the make-it-from-scratch thought process. My mom laughed at me the other day when I brought home a pumpkin... not to carve but to cook. I noticed today I kind of skip over the aisles with the 'box recipes' and it saves me like 20 minutes of shopping!  
9. JT is participating in martial arts and both boys are on a pee-wee soccer team. They love it. We've entered a new season of life - the sports season. I remember doing it as a child and it's kind of crazy to be on the parenting side of things... seems like just yesterday it was me out there! But we are enjoying cheering our little guys on and teaching them to be advocates for each other too! 

10. I miss our Mexico family. I miss having our staff right around the corner. I miss living life along side the girls. I know our little ones miss them too. Julio flew to the US a few weeks ago so we were blessed by getting to see him for a couple days... Julio said that Mexico wasn't the same without us. I know our hearts aren't the same without Mexico!  
11. We found a great church here. They have a great kids program and the preaching is pretty solid (a DTS grad, of course :-) .... I know, I'm a bit bias). We are thankful for what this church is doing to impact the Northeast and we are thankful to be invested in for the few months that we are here. 
12. Our house is breaking ground!! We are extremely excited! We just had the final pre-construction meeting and they will begin building this week! We bought our tickets for mid-January to head back to Texas to gather our stuff and make the long 17 hour drive up to Ohio... to finally settle into our home...with no plans of moving anytime soon! YIIPPPEEE!!! So much excitement ahead for our family!
So there you are. A few quick thoughts on the past month. Thank you so much for your prayers, your support and for not only investing in the people we minister too, but for investing in us personally! 
To see some recent photos of the last month please click here.