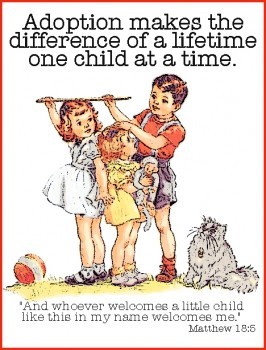 I wasn't really ready to face today despite the fact that I spent the weekend reminding myself of God's promises and being reminded of just how much God loves us. I spent the weekend reflecting... Reflecting on who God says He is; reflecting on why we chose to travel down the road of adoption; reflecting on why adoption exists; reflecting on it's purpose and reflecting on the season of life our family is in right now.
I have alot of questions such as did I choose adoption for my own selfish reasons? Does the fact that the adoption 'time frame' I had anticipated changed mean that God will still provide? Does it mean He wants us to close the door on this process? I reflected on whether I was really upset that we would have to wait longer for a child or was I just angry because I put in a great deal of work to get this far only to discover we are no further along in the process than we were a year ago (I like progress and I'm not good at just sitting still)? 
Lots of questions as I tried to process the news that we needed to 'start over'. (Some have asked about financial loss and what 'start over' means exactly? What it means is that Nicaragua has accepted some of our dossier, but any piece of paper that has a mexico address, they will not accept because they have been informed we have moved back to the US. We are required now before getting an approval to get a new U.S. homestudy (3-4 months), a updated UCSIC approval with our new address (2-3 months possibly), all documents notarized, apostilled and translated (1 months), and all the extra finances that those things involve.) 
So, these are the things I've descovered as I processed:
1. Philippians 3:13 "... one thing I do: forgetting what lies behind and reaching forward to what lies ahead, " I realize I am looking at the past. I have been focusing on what I have done the past year and where it 'should' have gotten us in the adoption process. I now need to let that go. I need to come to terms with where we are now.... I must start from here. Perhaps this is a bit out of context, but Lot's wife looked back after being told not too in Genesis 19 and because she did, she turned into a pillar of salt. I trust that God did what He did for good reasons. He has a plan... and not just 'a' plan, but a perfect one. In trusting Him, I won't look back, but I will move forward in what He has for me now. 

2. I am overwhelmed with the thought of being old... too old to have another baby in 2-3 years. Wierd. You're only as old as you feel right? When I heard the news and realized that if we start over now, it could be another 2-3 years until we have our fourth child, I suddenly felt this overwhelming sense of being old. Could I do that? Could I have another child at the age of 37? Am I too old to start the adoption process now? Do I feel old simply because my life has been up in the air for the past  4-6 years as we have moved often, living months in transistion again and again and again? Is it because I already have three little ones that suck the life out of me? As I wrestle through that, I realize that God provides even energy. I think of Abraham and Sarah and how she laughed at God when He told her she'd have a child at a ripe old age. Now I know women have children much older than I am now-a-days, but for whatever reason, this particular thought struck me harshly when I think about the adoption being delayed another year. 
These last two thoughts probably are the most important to me right now... 

3.  There are sweet little children that need homes and they need homes in which they will hear the Truth of Christ! If I am making this decision based on me (I'm young enough to take another child... I want to have an even number in our family... I'm just not ready to quit), I'm not sure those are the best reasons for my family to care for a child that has lost her parents. Whether I'm 30 or whether I'm 40.. a little girl out there still needs a loving home. Whether it cost 35,000 or 50,000, a little girl still needs a home. A little girl still needs a family to wrestle through life with and to walk through joyful moments and tearfilled moments with. A little girl still needs to be a part of a family that can demontrate in word and in deed, the love of our Savior! 
4. God adopted me. And he did everything to do so... to the point that He gave up His very own Son on the cross. As Dan Cruver writes in Reclaiming Adoption, "Redemption was never intended to be God's 'be-all and end-all' work of grace. God redeemed us in his Son so that he might love us and delight in us even as he loves and delights in his eternal Son. As we shall see, adoption is God's act of making room within his triune love for prodigals who are without hope, and providing them with homes in this world and the world to come. This is the story of adoption.... the ultimate purpose of human adoption by Christians, therefore, is not to give orphans parents, as important as that is. It is to place them in a Christian home that they might be positioned to receive the gospel, so that within that family, the world might witness a representation of God taking in and genuinely loving the helpless, the hopeless, and the despised."  I am reminded that the purpose of welcoming another precious princess into our family is not about me... it is about God and His work and His love for a little girl somewhere out there in Nicaragua.. and ultimately His love for humanity. 
So, just a few thoughts as I sift through my emotions. Thanks for listening!