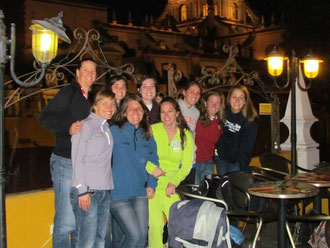 After a full day of traveling from way up Northeast, I finally made it to Mexico... and back. It was a fabulous week. As soon as I arrived by bus to Puebla, I was greeted by our interns and Julio. It was as if I never even left!  I was even pretty surprised after not speaking a lick of spanish over the past 6 months how easily the language flowed out. I even stunned myself a few times!
From the ministry side of things, it was a 'well worth-it' kind of trip as I met with each member of our former AIA team over the 6 days I was there. Being that each of these ladies and I are very close, these lengthy meetings included catching up on not only ministry in Puebla but on personal events going on in their own lives. What a sweet job I have caring for these ladies in this way!
The leadership team along with AIA's global intern coach leader who flew down the same day I did, also met to talk about our previous leadership transition and the interns, amongst other things. It was a blessing, for me, to have the opportunity to participate in making some tough decisions with the team. 
After meeting with our interns, it's obvious that the athletic teams they are working with are encouraged by their presence on campus, and although coaches may not share the same love for Jesus we have, they want our interns and staff there. These gals are doing an amazing job of serving, setting an example and being a light to the coaches and young athletes on UDLAP and Tec de Monterey's campuses. We are thankful for their hardwork and even though I flew down to Mexico to invest and encourage them, I left Mexico feeling extremely encouraged myself. 
Of course, another joy and blessing was getting to see Julio. Mexico can be a very challenging place to grow spiritually when you are 'one of the very few' who love the God of the bible. I was able to meet with Julio twice, read through some scripture with him and help him sift through some decisions he has been making. John and I both miss him as if he is one of our own children. Again, I was blessed by our conversations. 
Thank you for praying for this time and here are a few silly pictures of the week!