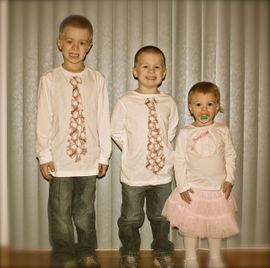 Heartache is what our country felt a week ago in response to the events at Sandy Hook Elementary School. If I'm being honest, I have nothing really to say. Not because my thoughts have not been swirling around in my head, but because the profound impact that such tragedy had on my heart left me completely speechless. I'm sure many of you, like myself, with very little effort, put yourselves in the shoes of those crushed parents. I actually avoided the news the first two or three days. I avoided reading things...anything about Sandy Hook Elementary. I didn't even want to hear the stories about the heros. I feared allowing myself to go there... knowing that I would find myself drowning in tears whenever I looked at one of my precious babies. 
Being that we are attending a church only 45 minutes from where so many lives were changed, I stepped into church realizing Friday's events were probably going to come up. Well, after dropping Lucia off at her class, there wasn't any more question in my mind that I was going to have to 'go there'. I knew immediately what the next hour would involve as soon as her teacher handed me a box of tissues and said, "Why don't you take a few." I knew when we walked into the sanctuary and there were boxes of kleenex everywhere.... I knew this was not going to be an easy hour and half. 
Not exactly sure what I'm saying. Really, I'm saying nothing of significance. But I wanted to share the sermon our pastor gave. It was... well, in light of the circumstances, awesome. After praying over each person that lost their lives that Friday morning, Pastor Scott spoke boldly, holding back his own tears, candidly sharing the hope of Christ and the reality of the horrific events that not only happened two days earlier but happens regularly.... around the world, in hospitals and in the 'hidden' places. If you have some time, I would encouage each of you to listen. 
Wetherfields Evangelical Free Church - December 16 Sermon
Also, I found this fabulous article that I think puts events into perspective through the lens of scripture. 
School Shootings and Spiritual Warfare
And finally, a prayer (the one read in the sermon), that speaks my heart:
"Dear Lord Jesus, we abandon ourselves to you tonight—we come running with our tears and our fears, our anger and our anguish, our lament and our longings. We collapse in your presence, with the assurance of your welcome, needing the mercies of your heart. Some stories are just too much for us to absorb; some evil just too great to conceive; some losses  beyond all measurability. We need your tears and your strength tonight. That you wept outside the tomb of a beloved friend frees us to groan and mourn; that you conquered his death with yours, frees us to hope and wait. But we turn our thoughts from ourselves to the families who have suffered an unconscionable violation of heart and all sensibilities. Bring your presence to bear, Lord Jesus, by your Spirit and through your people. May your servants weep with those who weep and wail with those who wail. Extend your tear wiping hand—reach into this great tragedy with an even greater grace. We cry out on behalf of the children of Newtown, those most directly affected by this evil, and for children throughout our country and the world, whose little hearts are reeling with fear and terror. Give parents wisdom and kindness, as they seek to love their children well, this night and in the coming days. Raise up gifted counselors and care givers to serve those most traumatized.
Lastly, Lord Jesus, we cry out with a loud voice, How long, O, Lord? How long before you return to eradicate all evil, redeem all tragedies, and make all things new? How long, O, Lord, how long? Your Bride weeps and waits for you. In your merciful and mighty name we pray." - Scotty Smith