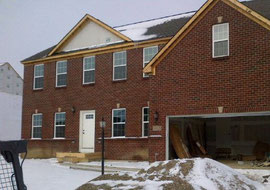 Just wanted to let everyone that we have arrived! The trip was pretty uneventful and Lucia did FABULOUS! This was a huge answer to prayer. She had no melt downs or tantrums. I was completely amazed! She slept well in the car and did great when we pulled her from a restful slumber two mornings in a row at 3:30am to begin the drive. Thank you! Thank you! Thank you for praying! 
Also, after hooking the trailer up to our Pilot, we realized although the vehicle had a hitch, it was not wired for lights, so my in-laws are driving up with the trailer in tow as I write. We are thankful for the Lord's provision and protection over the last two days. 
Please do continue to pray for my in-laws as they began their drive this morning and will hopefully arrive tomorrow (Friday) night with the kids, our other car and the trailer. Please pray for extra patience for my in-laws and that the boys would handle the long car ride as well as Lucia did! We are excited and anxious for their arrival.
As far as the house, we had our walk thru yesterday and it went excellent. It was the first time that we had physically laid eyes on the home and we were extremely pleased with the finished product! There were a few things we asked to have fixed prior to our closing tomorrow, but we are so thankful for God's provision... particuarly because we have not be available to keep an eye on things as the house was completed.
Our closing is tomorrow at 10:00 AM and we are overjoyed for LOTS of reasons to get keys to our first house!  Thank you again for joining us in this exciting journey!