It's almost 12:30 Am and why am I up? Well, I started writing a blog at 11:30... literally finished it and then accidentally skimmed two fingers across my mouse which caused my screen page to change which deleted all my writing (since I forgot to save my draft... just incase I did something silly like that.) Those stinkin' computer finger shortcuts!! Are we a lazy people or what? ha! Needless to say, I feel like writing (since I miss you all) but I don't feel like rewriting my previous blog.... soooooo.... I'll just update you through photos. That's more fun anyway, right? 
March 4th we celebrated our little princesses second birthday. She is a fireball of fun. She is full of expression, sassy and spunk. She totally adores her older brothers and they love her to pieces (most of the time). We celebrated Lucia Elmo style since she has grown quite fond of that red curry creature. 
Homeschooling has been going well lately. With all the transition we decided to slow down a little bit... a pretty wise suggestion given to me. Although we have been covering Kindergarten curriculum with JT this year, we've decided we'll repeat it since he's still pretty young. He really enjoys learning and it's been fun to learn along side with him... things I remember learning when I was in school, but have seemed to lost the fine details. Hudson has begun showing a desire to 'do school' too so I'm excited about engaging a bit more with him next year too in this way. We are still crafty and we still love to make things out of anything! Here are a few of our activities we have done as of late (if you would like to see more, please visit my Missionary Mommy Craft page):
We had our first guests over to eat at our house... and of course we busted out the XBOX Kinect! What a fun way to have family entertainment!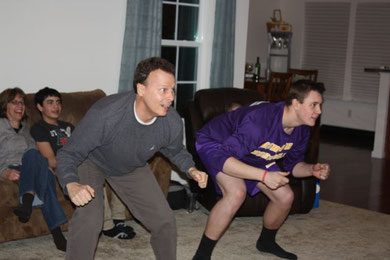 Fun story... so John and I needed to buy a bedroom set since we literally were living like newlyweds with a mattress to sleep on and two tuperwear bins as nights stands. We went to a store one night to just check things out and ended up making a purchase... I jokingly asked if they could throw in one of the kids recliners I saw all over the store room floor. As we shook hands and said good-bye to the manager, he said, "Oh... ya, grab one of those chairs on your way out too".... We were both shocked being that they were selling for $200! It was like, 'Oh ya, by they way... grab a mint on your way out" ha! Here is a picture of Lucia and Jt sharing the Ironman recliner: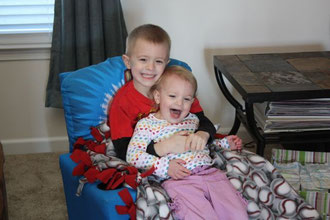 We have a new family rule... no dessert except on weekends. It seem that after living with grandparents for 6 months, the kids got into the habit of having dessert after EVERY meal! We had to nip that in the bud really fast :-) Needless to say, now when we have our weekend desserts, we do it right! These were some cupcakes we baked and decorated and truly enjoyed!
Horseback riding in the house on a cold day!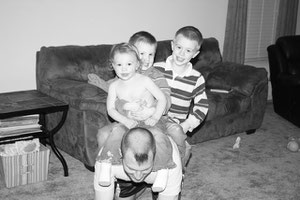 Well, this wasn't exactly what I had started writing but it gives you a little update on our crazy life. I do have one prayer request! We recently finished our homestudy. Our homestudy document needs to be reviewed by our agency for official approval in order to officially complete it. Once it's complete, we can then send it to the USCIS for approval (again). With that being said, we are praying that when they send the homestudy draft to our adoption agency, no changes or additions need to be done (this would obviously take more time).  We would like to get our homestudy sent out to the USCIS by April 1st. Thank you for your prayers!