So we studied the human body over the last few weeks and did a few fun activities to get some hands-on learning. First we had the kids lay on some of that big roll out paper and I outlined their bodies. Then I cut out some organs (lungs, liver, heart, stomach, small and large intestines) out of construction paper and let the kids paste them on in the appropriate spaces. The photo on the right is a skeleton puzzle. I found the free printable pieces here. I laminated them for durability and the kids enjoyed putting the skeleton together with it's organs.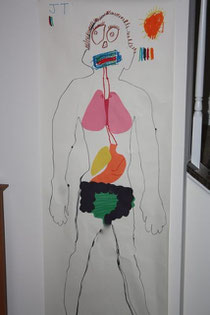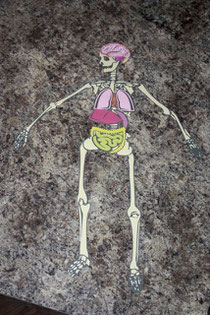 I found this (right) fun experiment online also. We made a fake lung with a bottle, some playdoe, and a straw, and two balloons.
This (below) was the boys' favorite craft we did. All you need is a hand print, 5 straws, scissors, tape, string of some sort and five beads. Thread the string through the straws using beads at the ends so the string doesn't pull completely through. Tape the straws to the hand in the appropriate place to act as the bones. Slice a diamond on the top half of the straw in the places where the joints should be to make the straws bend more easily. Then let the kids pull the 'muscle' to make the 'bones' move.