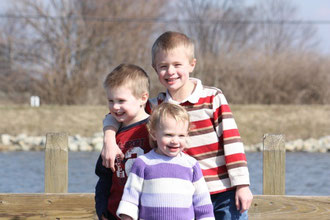 My facebook time has twindled... tremendously. For a season (more like my international season) facebook played a big role in my ability to keep up with what was going on in the U.S. and to keep in regular contact with my friends... But then I had a third child... and moved. Three children all 5 and under is a rather time consuming job that I actually forget to check my email let alone surf around on facebook.
BUT I still love that social network... I seem to always run across a pretty awesome article that impacts me. This one I read last night and I couldn't not share it with you all. Many of you who follow our blog have small children and I am aware a good number of you have been out of the younger-year-trenches for quite a while... but this article is so well worth the read regardless of your season. It is funny. It is encouraging. It is touching. And it is just plain true. 
It really impacted me because John and I are in that stage... dead tired. All. the. time. It is a stage of life we wouldn't exchange for anything but what the author of this article says hits the bull's eye dead on. And  I'm glad he said it outloud for all of to be reminded that how we feel is completely normal... And I LOVE that this is written by a daddy instead of a mommy!
Needless to say, I pray that this brings encouragement to you... If nothing else, you will know that you are NOT a terrible parent! 
To Parent of Small Children: Let Me Be The One Who Says It Outloud