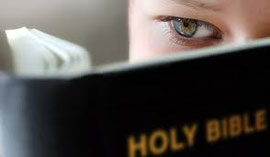 When I first became a Christian in college, I couldn't seem to get enough of God's word. I could spend two or sometimes three hours buried in God's love letter to me. Starbucks had become my sanctuary where I would breath in the smell of yummy fresh coffee grinds, sip on a white chocolate mocha and dig through scripture, meeting the Lord with every turned page. I was fascinated with how I saw my own personal life woven between the fabric of every word and it transformed me. I recognized the value, the importance and even the privilage of being able to easily read the bible. 
Shortly after John and I married I remember meeting an older mom of three from our church. I don't exactly remember the context in which our converstion took place... Perhaps she was struggling with something or maybe we were simply talking about church, but I remember asking her the question, "Do you read your bible everyday?"
She responded by saying, "No...."
Again, I'm not exactly sure what else she said, but while that single word was bouncing around in my head, I do remember thinking two specific things: First- "She doesn't seem to think that's a big deal." and second- "WHAT??? How does she not read her bible everyday? Maybe she's just not that strong of a Christian." 
So, fast forward 6 or 7 years and that self-righteous judgemental gal is married with three kids of her own and guess what.... Yup. I don't read my bible everyday anymore. I might even say (sheepishly, that is) I don't read it every other day. Don't get me wrong... I try.  I even have my weeks where I can check off 'Read Bible' from my list of to-do's seven times in a row,  but those weeks started to dwindle after baby #1 arrived. As a matter of fact, I distinctly remember having two thoughts as I cried my eyes out two months after our first child was born.... 1. I miss my husband... and 2. I miss God. 
It has been a process of figuring out what my walk with the Lord looks like with each new stage of motherhood thus far (amongst many other changes in my life), but as I reflect on the feelings I had when that mom from church told me she didn't read her bible everyday (seriously reminds me of the old cliche 'the best parents are those who have never been parents') I was so judgemental. I had no idea what was going on in her heart and maybe she was like I am now... battling to find the time, the energy and sometimes even the desire to spend time in God's word. 
The other night I was reading through Bible Study Magazine and found a really great article about R.C. Sproul called From Smoke To Fire: Igniting A Bible Study Movement. Sproul founded Ligonier Valley Study Center in 1971, a ministry with the goal of helping people "understand what they believe, why they believe it, how to live it, and how to share it." This particular quote from the article struck a chord in my heart:
"Sproul started his minstry with the acknowledgment that 'a lot of people have to work at Bible study to try and get motivated.' He recommends becoming involved in a Bible study group or class, which helps develop the disicpline needed to get into the Word regularly. He compares Bible study to learning a muscial instrument: 'I've known a few people who have taught themselves how to play the piano, and they've done a very good job of it. But most people who try to teach themselves have a fool for a student. If you want to learn how to play the piano, get yourself a good piano teacher and sign up for a course. That's how you progress in it; that's how you learn.' 
He says the same is true for growing your spiritual life. 'If you're not motivated to initiate Bible study on your own, get yourself in a Bible class- one where you're given assignments. Self-discipline is a result of first having a discipine under someone else's authority so you learn to establish patterns of your own.'"
I love that because it has been true in my own life. I recongized a while ago that bible studies with other women hold me accountable. I always hate showing up to class without having done the reading for that week because I just simply couldn't participate with the conversations the way I like too. I wasn't encouraged as much by our conversation and I could sift through the thoughts of others as well when I wasn't prepared. So, for me, being in a study keeps me in God's word regularly.
"Our culture argues all the time about what's right and what's wrong." Sproul again points to the Scriptures as a solution: "The Bible tells us what is right and what is wrong; if we believe that it is God's actual Word, then that should define our lives and should make us salt and light and infleuncers of the culture around us... The Bible calls us to have renewed minds. We're called to love the Lord our God with all our minds...You have to work. You have to study. To be led out of the darkness of the world and into the light of the Word of God, we're called to seek after the very mind of Christ." 
Needless to say, bible reading is important. To say that it is valuable seems to be a major understatement. We should be in it everyday, but I'm with every other busy person in our world...and I understand. BUT we need to do what it takes to stay in His word so that we are not swayed by the cultural norm. We need to continue to fight the good fight of faith by spending time renewing our minds through His precious Word. If you struggle in this area like me, I would encourage you to join a bible study at your church! Or grab a friend or two and start one. 
Anyway, just some random thoughts for those like me who wish they could still spend hours and hours in God's word daily.