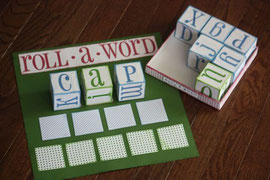 One of my favorite things to do is make educational games out of stuff. I won't lie... probably half the time I'm more interested in the creative 'making' part than the actual 'playing the game' part, but I'm okay with that. If you remember some of my blogs and/or crafts we did and made while living in Mexico, I just enjoy 'making' things. Sometimes my ideas are fabulous, if I do say so myself, but then again just as many of them crash and burn. (As a side note, when I say my ideas, what I actually mean is that I stole someone else's idea and maybe tweeked it a bit, gave it a new twist or just painted it a different color... so take my ideas with a grain of salt.)
Anyway, this was my latest project. It's kind of a spin off of scrabble and other spelling games for kids. The idea behind it was 1. I wanted to do a game that helped with spelling words 2. My kids like throwing dice... literally and, 3. I wanted to make something that gave me the excuse to use my stamps since I totally miss scrapbooking (I'm extremely behind in my photos. If you are a scrapper you can understand this... the idea of getting started seems daunting because I'm so behind).  Anyway, since I'm a Close To My Heart consultant, I had a My Creations Collage Cube sitting on my shelf for a while so I thought, "What a perfect way to use it."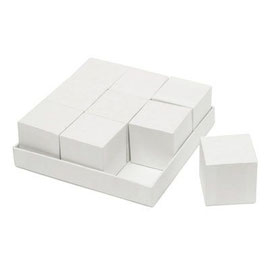 The rules: There are two vowel dice (colored green) and 7 consonant dice (colored blue). If you are doing three letter words, pick two consonant dice and 1 vowel dice and roll. Use the three to make a word. If you make a word, you get a point. (If you are doing four letter words, you can choose either 2 vowel dice and 2 consonant dice or three consonant dice and 1 vowel dice). If you can't make a word, you lose your turn. First one with 10 points wins. 
I'm sure you can make up more rules to get more points or bonus points or whatever... but that's what I like about making my own games up... I get to make the rules! 
Here is the finished product: