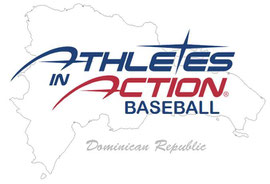 So baseball season begins in the McLaughlin household. John has been busy making phone calls, returning emails, sending out boxes, packing and so on. In two days John will be heading to the Domincan Republic to invest in the lives of 21 young baseball athletes, three coaches and those who come in contact with them in the DR. It has been an exciting year for us as we moved back to the U.S. and John has jumped back into the AIA baseball office with passion and drive. He has put in a lot of time, heart and energy encouraging the players in the fundraising efforts and doing the administrative preparation part of the summer tours for the past many months. It is always fun to arrive at this point where all the planning comes together and the players finally arrive. 
Of course, the kids and I will be sad to see him go. I know I will miss him three days after he's gone and I know there will be moments in the next month when I want to lock myself in the kitchen pantry and devour an entire bag of tostitos chips along with it's complimentary jar of queso (Oh, wait... that isn't anything new)... Okay, I am fully aware there will be moments when I will want to lock myself in the basement bathroom and neverr come out, but I know my God is able.
After living in Mexico with no car, no backyard, no dishwasher, no ice maker, no carpet, no clean safe parks, and simply no where else to go while at the same time trying to pull off the single parenting gig during a summer tour, if there is one thing I have learned, it is that the Lord never fails to give me the strength to breath and to keep moving when I feel the weight and craziness of being a single parent. He is the Source which keeps me putting one step in front of the other when what I really want to do is throw myself on the floor and cry. (Hey- sometimes I suppose the ol' cliche- if you can't beat 'em, join 'em sound REALLY good!)
As hard as the summers are for us, I wouldn't change a thing. As challenging as they can be, it is worth it for the 21 guys on our team. It is worth it for the coaches that spend the summer with us and it is totally worth it even if only one single person in the Domincan Republic falls in love with Jesus as a result of us being there. Lives will be changed. And that makes it all worth it. 
If you are on our mailing list, you already received this website, but if you would like to follow our team (or any of the AIA teams) going out this summer, feel free to visit AIA Team Blogs and read updates and view videos of the tour. 
I'm so proud of my husband. I'm proud that he loves Jesus with his whole heart and I'm so proud that he has the opportunity to set a Godly example to the young athletes on his team. I have often said that if my boys turn out to be just like John, I would be one proud momma... so if the players on his team are challenged to live deeper, more intimate lives with Jesus because of John's leadership, I am one proud wife! 
I'm not exactly sure how much blogging I'll get done in the next few weeks. I'm sure those who have faithfully followed my weekly ramblings in the past already notice how little I write these days, but hopefully I can fill in the gaps of how the summer is going as I chat with John via skype or phone. In closing I want to share what John and one other staff member put together which I think summerizes all that goes into our summers:
Four Teams --Alaska, Ohio, New York, Domincan Republic----
120 athletes traveling. 
31 Weeks of travel
200 hours of Discipleship
160 games scheduled
88 boxes shipped out
45 host families all over the country
200 new discipleship books published 
200 dozen baseballs ordered
1000 t-shirts ordered
11 vans and one plane traveling over 65k miles this summer

Pray that lives will never be the same