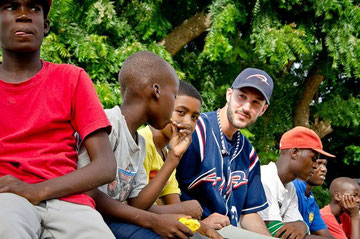 After being home from the Domincan Republic for a couple of weeks, John is finally finished tieing up some of the loose ends and closing out another year of AIA baseball. I was so incredibly blessed with the opportunity to spend a week doing ministry alongside John for that final week (Thanks again to my superhero mother-in-law and her amazing servant heart). I can't even begin to share how exciting and refreshing that was for me. After switching gears to motherhood after the birth of our oldest almost 6 years ago (REALLY??? Has it been that long??), I have missed doing ministry during the summers with John. It was an honor to get to know the players, hear their stories, see the fruit of God's work in their lives while in the DR and even get to be a small voice in their lives as they asked me questions about my own life. 
Needless to say, one of the players, Keith, has quite the testimony. Coming from a rough background of drugs, the Lord has brought him to a place of healing. We were even more encouraged that he actually attends the same church a number of our friends in St. Louis attend. This trip was encouraging for him in his walk with the Lord and we were thankful to be a small part of it. Needless to say, we wanted to share with you a few of his own words: 
"I would say my life has changed in many ways from spending time in the DR this summer. First off just building new relationships with players and coaches that love the Lord. This impacted me because spending time in God's Word with other people is powerful. It also showed me that it is important to have people in my life that care about my walk with God - to talk and pray with. Secondly, I have learned to trust God more. Before I left for my trip I was really worried about getting my passport in time and raising all the money and all the other responsibilitys. It was in those moments and even now when I can see that God has grown me in circumstances when I need to trust in Him and not try to handle things on my own. There were a ton of times on the trip when I had to pause and tell myself to lean on God and not worry about the things that I cannot control. Something else along with trusting God was believing in His promises. Knowing that he always hears my prayers and knows what plans he has for me is very freeing. Overall the lessons we talked about were awesome and I learned a lot from those as well. We talked about not having idols, biblical manhood, relationships and marriage, identity, temptations, trials, victory, prayer and how to read our bibles. All these things that helped us in our walk and strengthen us to be examples everyday. Lastly, we worked on how to pour into other people. We focused on Scripture and the life of Jesus to present the gospel to other teams and kids so they may accept Christ or be encouraged! And a ton of other awesome things!
One thing I was challenged with while being in the Dominican was giving some of my clothes away. I felt drawn to give a lot of times and I did. But one time God specifically wanted me to give away something that I had recently bought that I didn't want to give away. He clearly showed me that I hold on to things that don't last for eternity. It took about three days for me to realize that it was God that wanted me to give away this item. Finally, after wrestling with myself I gave it away and found peace and a foundation where God had used something so little to impact my life. Something else during my time on the trip that was challenging was finding peace about playing time and opportunity on the field. Many times I handled these situations on my own which caused me to act in a way that isn't honoring to the Lord. I saw that even in those times I must take hold of what the spirit of God offers. Peace, love, joy, patience, kindness, gentleness, goodness, self control, and all the fruit of the spirit. Apart from those things I am not glorifying Him with my life. Those situations lead me to reflect on how I handle everyday...am I following after Christ? There are always challenging curve balls that happen in our life and knowing that God is in control should cause me to trust him and be patient." 

Please join us as we continue to pray for Keith. Our prayer is that the many things the Lord revealed to him would motivate him to continue to pursue Christ passionately. Our prayer is that God would continue to surround him with people who love Jesus and that he would continue pursue fellowship with those who will graciously and lovingly point him to Jesus in all circumstances of his life. John and I will get to see Keith in just a few weeks as we head to St. Louis so we are excited about getting to hang with him again!