It has been a long time dream of Athletes in Action to build a large sports complex in which sporting events could be held and the gospel could be shared. In 2006, this dream began a journey of becoming a reality. Installation of one of the largest multi-sport synthetic turf projects in the United States began in Xenia, Ohio right next to our headquarters. It was just the beginning of what would soon be a huge sports facility used to bring glory and honor to our King and Savior, Jesus Christ. Designed to host local, regional and international events, Athletes in Action has been able to develop strong relationships in the sports and event-planning industry and in turn develop strong leaders in the sports community.

A small part of this sports complex is the turf baseball field that was completed in 2007. The story behind it's name, Grady's Field, is one of heartbreak and redemption.  Prior to the field's completion, AIA ran out of funds to finish the job. The field was playable, but there were no stands, no place for fans to sit; It was simply a field with a whole lot of dirt surrounding it. About a year later, one of AIA's baseball staff, Matt,  had a couple friend who was pregnant with twins. His friends' wife ended up going into labor early- about the 27.5 week and gave birth to a boy- Grady, and a girl- Gianna. Because of complications, baby Grady survived only a couple of days...52 hours to be exact. People immediately began to surround Grady's family asking what they could do to help and support them through this tragedy. Mr. Smith, Grady's dad, with a heart for sports and baseball, longed to have a son he could play catch with and run on the field with. In response to the support offered and knowing the need AIA had in order to complete the baseball facility, Mr. Smith asked if the money could be given to AIA to finish the job. His hope was that in doing so, Grady's life would leave a legacy for God's glory.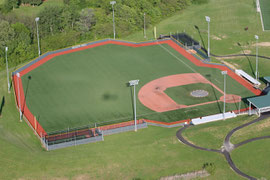 John shared that story with me the other day and I seriously got choked up. As I shared in the previous blog, the AIA baseball staff a few years ago started a fall 6-week youth baseball camp ministry not only to help young athletes grow in their baseball skills, but to grow in their faith and trust in Jesus Christ. They began the 2013 camp this past week. Matt shared this after the first night: 
Tonight, nearly 60 kids and their families heard the story behind the naming of Grady's Field--God's story through Mr. and Mrs. Smith. Thank you Smiths, Vincents, and friends of both families who gave so sacrificially, and under such tragic circumstances, so all of us can call Grady's Field our home. God's faithfulness and Grady's legacy continue to shine in Xenia, Ohio.
Mr. Smith wrote this in response:
We just love what you are doing there and the story that God wanted to tell all of us. That no matter if you live 50 hours, or 50 years, God has a plan and purpose for your life. We are just humbled as a family to know that God used Grady's life to tell a story, that He wanted to tell. We just love that Grady's story points us all to Gods story of a Son, who came to this earth, so that many would hear the truth about Gods love for us. Thank you Matt for telling that story to these kids and carrying out Gods ultimate plan that he had for Grady's Field.
This is a pretty amazing story. I love how Mr. Smith says that God has a plan and a purpose for our lives... no matter how long that life is on this side of heaven. Oh, that we would truly grasp and cling to that fact- that every one of our lives can point to God's story of a Son, who came to this earth, so that many would hear the truth about His love for us. This is my prayer for my life. It is my prayer for my kids... whether in life or in death, their lives would point to God's story of His Son.. and because of that, others would know they are loved by the Almighty God!