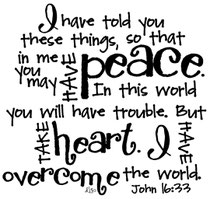 So a few weeks ago I began reading a book called Disciplines of a Godly Woman. It addresses various disciplines such as the discipline of submission, the discipline of prayer, the discipline of contentment and so on. Being a great book submersed in scripture, I feel that it has been causing me to reflect on what areas of my life I struggle to submit to my Creator, My God. I would definitely recommend it. 
Although I am giving a short little plug for the book, this isn't the reason I'm writing. Chapter 9 is titled Discipline of Perseverance and for the most part has caused my mind to stop and ponder a great deal about one tiny sentence:
"Janet, this is what we've been prepared for."
Now,these eight words may not seem very significant, but in their context, you will see the weight of their seriousness and the depth of their meaning:
"Pastor Scott Willis and his wife, Janet, together with six of their nine children, piled into their minivan, buckled up, and left their home on Chicago's south side for Wisconsin. It would turn out to be a day of excruciating pain and horror. While driving north on Interstate 94 in Milwaukee, the van ran over a large piece of metal that punctured the gas tank, immediately turning the vehicle into an inferno. By the time the van stopped and the parents fell out, their children were hopelessly trapped. Six of their children went home to be with the Lord that day. 
You'd think the Willises would conclude that their God was far away at that moment. Yet the burned, bandaged couple, still in physcial pain, gave witness to God's grace at a news conference. Janet relates that when she looked back toward the van and began screaming, Scott touched her shoulder. "He said, 'Janet, this is what we've been prepared for.' And he was right. He said, 'Janet, it was quick, and they're with the Lord.' He was right"'."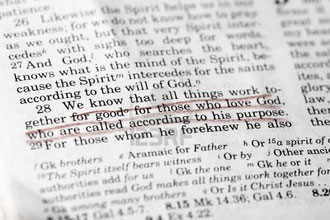 Wow. There are truly no words. I was struck by the idea that Scott acknowledged that the Lord had prepared them for such tragedy and heartache. I kept asking myself, 'How do you even begin to prepare for such heartwrenching agony?'. This couple was so grounded in their relationships with the Lord that they could stand firm on the solid rock of Jesus' foundation in their life.... they could hold tight to biblical promises even though there were moments, days or probably weeks that the feelings and emotions they experienced did not seem to line up exactly with those promises. They had tasted and seen that the Lord was good... no matter what. They had spent a life time getting to know their Creator, the Creator of their children, and a lifetime letting Him love them and a lifetime learning to trust Him... that when the storm hit, they had been prepared to whether the storm. 

A number of years ago I traveled to Spain with Athletes in Action as the athletic trainer and Kirsten Moore, who is presently the head women's coach at Westmont College, was our head coach. A bit over a year ago, Kirsten, pregnant with their first child, lost her husband suddenly due to complications following a surgery for Crohns disease. She recently had the opportunity to share her story at a chapel service and I wanted to share it with you all. This is a powerful message, a powerful love story, as she calls it, and a powerful testimony of a mighty God who had been preparing her for such tragedy (even when she didn't know it) and who has sustained her and their sweet baby girl step by step, moment by moment. I pray that you would be encouraged as you listen to her words!