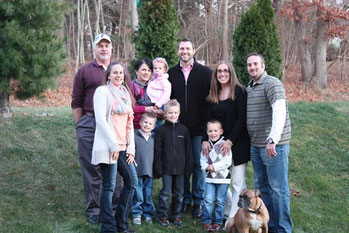 Well, it is that time of the year again... the hustle and bustle of the holiday season. This year we'll be celebrating the birth of our Savior in Texas with John's family. It has almost been a year since we have been back to Texas so we are excited to see friends and family. 
We had the opportunity to spend Thanksgiving with my side of the family in Connecticut. After a 14.5 hour drive, we were no doubt thankful to be with family! Here are a just a few pics of our time there: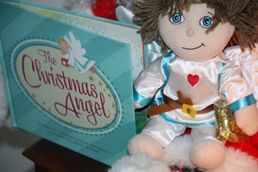 One of the fun things we are incorporating into our Christmas festivities this year is The Christmas Angel. I know most of you all know about the Elf on the Shelf idea. I think the idea is really cute (and probably more entertaining for the parents, in my opinion) but I wanted to do something that was more focused on the 'real reason for the season' instead of good behavior. After seeking out alternatives to the Elf on the Shelf, I found The Christmas Angel. The angel (you can get boy or a girl angel) brings a new message from God in gold dust every morning on how we can give instead of receive. It has been fun (and challenging at times) for our entire family to focus on giving in various ways! Here are a few pics of Gabe, the name we've given to him, of how the kids found him delivering a few messages from God. If you are interested in learning more about this Elf on the Shelf alternative, click here.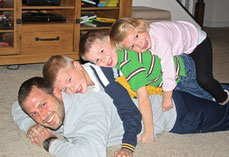 Another random thing that I had been meaning to share for the past month was John's preaching opportunity. Our pastor was out of town for the week and he asked if John would be willing to fill in that Sunday. I watched him prepare with diligence and I was so proud of how the Lord spoke through him. If you would like to listen to his sermon in which he preached out of the book of Malachi, you can listen here. (Scroll through the list of sermons on the left to 11/17/13 Our Best Gift)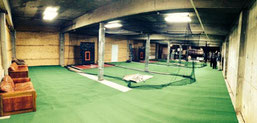 We also wanted to share a fun update from the AIA baseball office:
As this year comes to a close and we are able to look forward to 2014 there are a few things that are at the head of the line that we are excited about. 
The first is the finished product of our Xenia Scouts indoor facility. This facility is a garage that is here on our campus that the baseball staff has turned into a nice and workable indoor baseball facility. There are many hours of labor that were put into this facility, but all done with the end in mind.  That end is the reality of being able to continue to minister to the kids in our youth program all year round.  Each of our 8 youth teams will have the access to this facility and will also be able to interact with our staff. With each interaction our staff are able to further the gospel message that has been given to each of these kids.  Right now there are over 100 kids in this program and we hope to see it grow over the years to come.  May God continue to receive the glory for this and future things within AIA Baseball.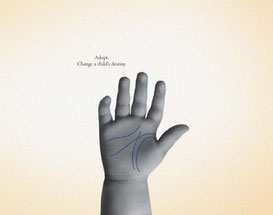 For those that are following and praying for and with us in the adoption process, please continue interceding on our behalf. We have spoken with our agency and we are simply waiting... and waiting. We had hoped to have heard something in regards to us being accepted by Nicaragua at the end of November but obviously November has come and gone. From what I understand, the governing board that reviews the dossiers and makes the ruling as to whether we are fit parents or not has not met since their last meeting. 
Because of our hope to have heard something by last month, December has been a bit more of an emotional struggle. If I am being honest, although we are overjoyed for two friends of ours who brought home their children this month, the reality being that they started after us and finished before us partnered with the unknown makes my heart ache just a tiny bit (and sheepishly jealous). As we enter into the new year knowing we have a full 365 days ahead of us, we are praying that 2014 will bring us much joy and celebration in regards to what we have been pursuing over the past two years - the addition of a sweet precious baby girl to our family. We love each of you and know that this journey has been long and there have been moments of frustration and angst, but your prayers and encouragement have been felt.