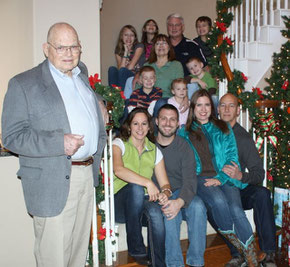 Happy New Year Friends! Congratulations on surviving yet another trip around the sun! (At least that's how we think about it in this house since we just completed our solar system study in homeschool.) Pretty amazing if you think about it- I mean, we literally spin around the sun on the same course over and over and over again in such a way that life is sustainable on earth... and only earth. Wow. Of course, we do serve a pretty spectacular God so I shouldn't be surprised. 
This of course is why I'm approaching those good ol' New Year resolutions a little differently this year. But, before I get there, let me take just a minute to reminice about this past year which I would file in my records as 'The Beginning'. Sounds kind of odd being that we have had LOTS of beginnings over the past 8 years of marriage... 
2004 - we met beginning our relationship
2005 - we married beginning a journey through life together
2006- we traveled the entire country raising support - well, this was the
          beginning of full-time ministry for me
2007 - we had our first baby - beginning of parenthood
2008 - we moved states - beginning a new life somewhere else
2009 - we had another baby - beginning of parenting TWO children
2010 - we moved countries - a whole LOT of beginnings
2011 - we had yet ANOTHER baby - beginning of playing zone defense
2012 - we moved countries - beginning of a new beginning
yup - a whole lot of starting over for us... a whole lot of new friends, new churches, new homes, new tears, new fears, new triumps, new joys, new smells, new sounds, new frustrations, new emotions, new sights, and the list goes on. 
This year was pretty much a whole lot of new too. We moved into a new home. We had new neighbors, made new friends, started attending a new church, and faced new concerns. BUT this is the first time in 8 years that we have been able to experience 'new' knowing we would not have to say good-bye to the 'new' in a couple of years.
This time for us, as we have begun to establish ourselves in a new community, we feel kind of 'safe' or even 'settled'. It has been exciting to make friends and get involved in the community in such a way that we know we could be doing this in 10 years.... or maybe 5 - I don't exactly want to tell God we aren't going anywhere for 10 years... considering the last time I told God I wasn't going to do something- like marry a baseball player- I ended up eating my words. ha! 
But, it is a unique feeling for us considering life went into triple full speed back in 2004. So, I would say 2013 was a real beginning that right now doesn't have an end in sight... and I will enjoy it while it lasts. 
So this brings me to my resolutions for 2014. I am definitely a goal setter. Every year I come up with my 10 things I want to accomplish the next year. Sometimes I do pretty good. Sometimes, not so much. I always make sure my goals include personal growth, some type of physical goal like working out a certain amount of days, or some type of goal that challenges my brain- like read so many books or something like that.
But this year as I was praying and contemplating what I wanted to work on, all that kept coming to my head was what I really wanted to see God accomplish. Like- really BIG things. Things in our family. Things at church. Lives of people I know changed for His glory. For the first time I really don't care enough if I lose that 10 pounds. And I don't want to put reading my bible everyday or praying for my husband everyday on my list of resolutations (I mean seriously, I just need to do those things, period), but what I really want is to see God do some specific things in the lives of people I know and care for. Things that I know only He can do. 
Ironically I had this conversation with John on a date the other night and we busted out a restaurant napkin and wrote down 8 things we felt the Lord had burdened our hearts with to be praying daily for and to wait in expectation in trusting that the Lord can and will do them! I put it in my wallet and  will carry that napkin with me the entire year! 
I remember when we were waiting to hear about the judges decision in regards to our friend Julio when we lived in Mexico. We knew a innocent verdict would have no other explanation other than God did it. I can't even begin to explain what that was like to experience God do something only He could do right before our very eyes. I still remember those raw emotions when we got word only minutes later that Julio was free!
So, this year there are eight specific things we are praying heavy for and we are confident that if God allows these things to happen, there will be no other explanation than to point to God!
So, with that being said. 2014 is already labeled as the Year of Hope!
Are you trusting God for anything big in your lives this year?