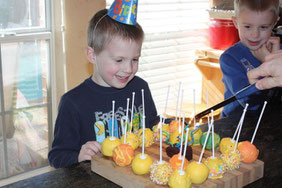 So you've heard the phrase.... He's a 'bull in a china shop'. Well, that pretty much sums up my littlest man, Hudson. And today he's a little less 'little'. Today we had a little family celebration in honor of Hudson's five years of life. Oh, where has the time gone? 
It is fitting that we had the opportunity to celebrate his life in the very state that he was born. We drove by the first house we brought him home too and we reminisced about the day he entered the world on this side of the womb. 
For the past five years he has been making life a lot brighter. He is adventurous. He is fearless. He has the best giggle in the world and we find ourselves laughing often as we sit back and watch him play. He has a HUGE imagination and he loves to pretend. He is crazy active, a seemingly natural athlete with an uncanny ability to zone out the world and just go full throttle (hence the bull in the china shop). He truly is the kid 'in a world of his own.'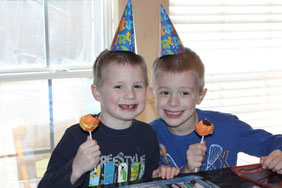 During our New Years Eve celebration the kids answered a few questions as they reflected on 2013 and thought about the upcoming year. When asked, "What would you like to get better at next year?" His response- wrestling. A pretty right on answer. If you ever read the book The Five Love Languages, I would argue for Hudson, there is actually one more - wrestling. He feels loved on the most when your on the floor growling, giggling and grappling.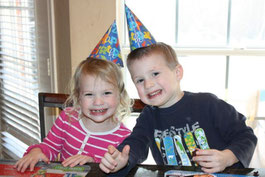 But my personal favorite characteristic is Hudson's sweet and tender side that I see so often when he is engaging with his little sister and other kids younger than himself. He melts my heart in the way he tenderly invites Lucia to play him, how he sweetly helps her put on a princess dress so they can play knights and princesses together, and how he will delicately wraps his arms around her when she is sad. Oh... prayerfully he will carry  that attribute with him for the rest of his life. 
We are thankful for the gift of his life. 
Father, we thank you for Husdon and recongize the heavy responsiblity of raising our little boy in Your ways. I pray Lord, that Hudson would honor You with his heart and that he would grow to be a wise man whose heart seeks Your will and not his own. I pray that he would walk before You with integrity and dignity and like Timothy, may he set the believers an example in speech, in conduct, in love, in faith, and in purity. Like David with Goliath, may Hudson stand up for the living God. Like Daniel may he be a man set apart not participating in foolishness and disobedience that leads one astray from Your word. As he grows, may you surround him in people who will encourage him in your ways. Lord, give him a heart of humility and not of pride. And may he see the world through Your eyes and may his heart's desire be to serve others as a means of honoring You. May people not see Hudson, but may they see You through him. Amen