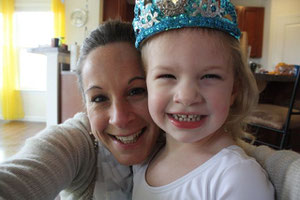 Three years ago yesterday, we checked my rather large self into a hospital in Puebla, Mexico knowing that by the end of the day our family would be plus one. I was anxious to meet our little girl and nervous as all get-up about having a scheduled C-section in a foreign hospital. If ya'll remember the blog I wrote about the experience, the epidural and surgery part of the ordeal was not too shabby, but little did I know because of hospital policy and the fact that my C-section was scheduled so close to the end of the working day, I would experience the heart of ache of not being able to hold my healthy baby girl until the next morning! So, this is why I am writing today and not yesterday.
Although I briefly saw our little Lucia as soon as they took her from my belly, it wasn't until 9 am the following day that I finally got to hold that precious bundle of love in my arms... and oh I am so thankful for her life. 
We celebrated the gift of her life on Saturday with some of her favorite friends. Princess Lucia wanted to celebrate with the theme that seems to fit this unusual  time of year- Frozen! She had a blast and we are so thankful for those that celebrated her three years with us. Even though she was showered with presents that day, I truly know that she really isa  gift given to us. 
She reminds me so much of myself when I was little... She is a little fireball with a whole lot of personality. Her expressions are beyond hilarious and her ability to say the funniest things without even trying lights up our house with laughter. She adores her big brothers and constantly asks them, "Jt, you love me?... Hudson, you love me?" She loves little stuffed animals, she loves to dance and she loves to sing. She can wear 7 dresses a day and is sly enough to convince her brothers to play dress up with her. But she can hold her own with a play sword and a plastic toy gun when it comes to helping her brothers attack the 'bad guys'. I love her to pieces. 
Lord, I pray You would draw her to Yourself early in her little life and that she would find her joy, comfort and identity in knowing Your son Jesus as You unfold all that You have planned in her future. I pray You would surround her in wonderful friends who challenge her, encourage her and spur her on towards love and good deeds... toward You. I pray she would grow to be a vessel for Your works. I pray You would prepare her mind, her hands, her feet, her body to be a means of spreading the good news that You offer through the cross! Thank you Jesus for giving us the privelage of raising this sweet little girl. (oh- and Lord, she longs for a baby sister... we ask that you would bring home her little sister soon!)
In Jesus' name, Amen!
Here are some pictures of the party!