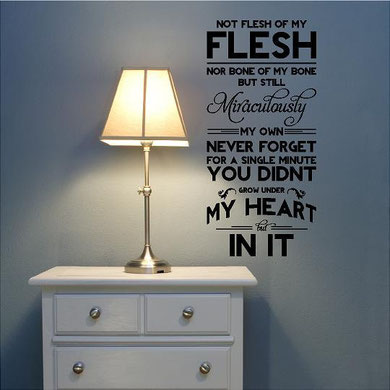 ... Figuratively speaking! 
We officially got word yesterday that Mi Familia, the governing adoption folks, accepted our dossier and has approved us to adopt. I can't even begin to explain the excitement and emotion that accompanied the news. 
It was Novemeber of 2011 while we were still living in Mexico when we began this journey. We worked extremely hard for almost 6 month to turn in all the necessary paperwork and being that we were gathering paperwork from the United States while living in a foreign country, the challenges were that much more difficult, but we pushed through, continued to take steps of faith and left the results to our heavenly Father!
Exactly one year later, Novemeber of 2012, after moving back from our time in Mexico,  we were anxiously waiting for Nicaragua to approve our dossier and we heard crushing news. Due to a number of our unique living circumstances and a situation that occured in Nicaragua a few years prior, we were asked to resubmit a new dossier with all our information coming from Ohio. At the time, we were still in the process of 'moving' so we couldn't even begin a new homestudy for 4 months! You can imagine our heartache.
Needless to say after months of emotionally recovering from the lost time, we started the journey again, completed a new homestudy, submitted a new dossier and started the waiting process again... with a much heavier heart knowing we had gotten this far before and then lost it all. 
One year later,  in late November of 2013... we were still waiting to hear. Would they accept our documents this time around?
Finally in January this year, we got word Mi Familia would be reviewing our dossier. We thought we would have heard something by mid Febuary since the counsel was meeting at the end of January/early February, but even as March turned the corner, we hadn't heard anything.
Finally, yesterday, March 14th, my heart sored as I opened up an email addressed from our agency coordinator- We had been approved! She enclosed a document that stated we had been approved by Mi Familia to adopt a girl 0-3 years of age!! As I shared the news via phone with family and friends, I held back tears of joys! It is like trying and trying and trying to get pregnant with high expecations and hopes.... and then one day, finally, the stick turns blue! 
The unqiue thing about the stick turning blue in this case is that we don't know exactly where we are in the pregnancy... are we in the first trimester? Or are we in the third? Or maybe I'll be pregnant like an elephant for a year. We will wait in hopeful expecation for that call - "We have a child for your family!"... It could come next week. It could come next month. It could come next year. 
We have learned to celebrate all steps in this journey... even the little ones. And after the two years we have had, this was a huge step to celebrate! We are still praying and trusting the Lord that we will get that call this year and before the clock strikes midnight on December 31, 2014, we will have brought home a precious baby girl who needs a home! 
Thanks you for celebrating with us. Thank you for your faithful prayers! Thank you for your continued support. We still need your prayers as we seek to wait patiently, trusting Him for His prefect timing for the perfect daughter for our family.