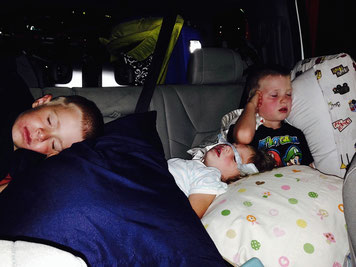 Well, we have officially begun the 2014 summer baseball season... AIA style. The craziness actually began on the 26th. Our plan was the kids and I would spend our time in Connecticut with my parents while John was in the DR. Our goal was to leave at 4am on the 27th, but John and I decided at 4:00 PM on the 26th to jump in the car that evening and drive through the night - something we have not attempted to do with the kids yet. We were already finished packing and just going to sit around... so we decided, "why not just go now?"  Nothing like being spontaneous with three kids in tow! They were excited and they actually slept the entire ride! Doesn't get any better than that! John drove like a champ...we started at 8pm and he sat behind the wheel until 4 am, took a nap for 2 hours while I took charge of the captain seat, and then he finished out the last leg of the trip. We were thankful my mom had that day off so John and I could get a few Z's since there was no way the kids would be napping upon arrival to grandma and grandpa's house!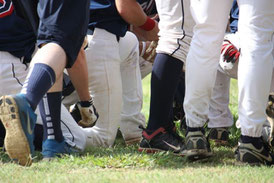 John spent the next day finishing up last minute phone calls to players, gathering random items he would need for the DR, and making his list of to-dos upon arrival into Miami where the team will spend a few days for training camp. On Thursday morning, May 29th, I dropped him off at the airport at 5 am and off he went. As I pulled away from the terminal, I thought to myself, "I feel like I just dropped John off for last year's tour. I can't believe we have begun another year of summer ball!" This is the biggest reason I haven't gotten a chance to post anything about John's team thus far... life just seems to be going mock 100 and if I put anything off for a day, months go by. 
For those faithful prayer warriors out there, I wanted to get John's schedule, a list of the players names and a couple other specific prayer requests to you. Thank you in advance for your constant and dedicated prayers. We know God will do some amazing things... having done this for 9 years (and John for 13), we have seen God's grace, mercy and power displayed during every summer tour so in complete confidence, we trust His future grace, future mercy and His power to change the lives of the boys and coaches on this tour. I, myself, am praying that this summer would be life-changing for John and that he too would experience God in a new and fresh way as he ministers to his team. I'm actually hoping this will be his best tour yet! As I had that experience when I went to Jamaica with a men's basketball team last year, I pray that this is a highlight summer for John as well! 
The teams Schedule:
May 31 (Today) - All the players arrive. They will do introductions, go through logistics, get to know each other, etc. 
June 2 - Players gear up and head out of country. They arrive in the DR, probably do a team time and get settled into their living quarters. 
June 21 - I will be leaving for the DR. I will be participating in the sex, dating and relationship talk with the team and I will get to spend the week hanging with them,  watching them play, cheering them on and getting to be a Christian woman's voice in their lives. 
June 28th - I fly back home to Connecticut to relieve my parents from a week alone with 3 little monsters! ha! 
June 30th - The entire team heads back to Miami to debrief for a night.
July 2cd - John will fly back to Connecticut to be reunited with all of us! 
July 7th- We will make the treck back to Ohio.
Here are the players whom you can pray specifically for (Two changes- Taylor Hardgrove and Jacob Wright will not be traveling with the team):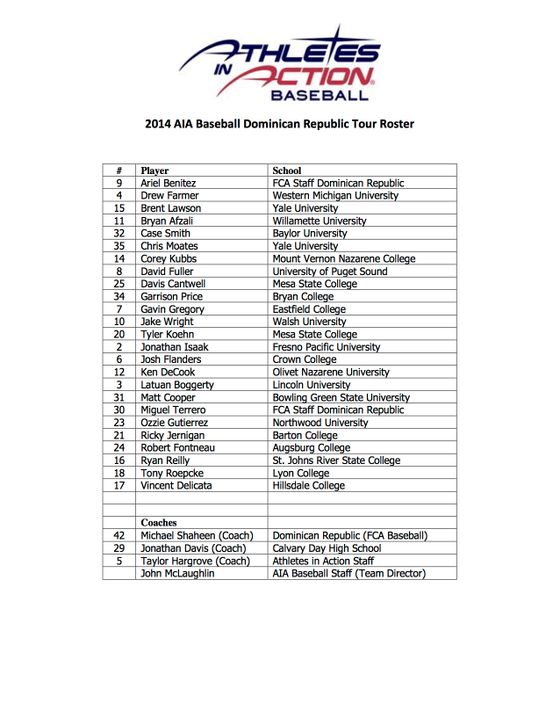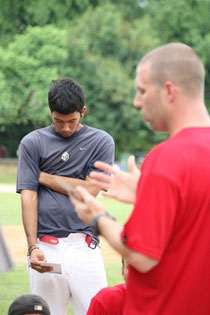 And finally, a few specfic prayer requests:
1. In the city where the players will be, a viral disease carried by mosquitos called Chikungunya has broken out. It is not deadly but extremely painful, can last anywhere from a few days to months and there is no cure. Please be praying for health protection! 
2. John had planned on splitting up the discipleship teaching with another staff member and due to some unexpected events, the other staff member will not be traveling with the team. Therefore, John will be teaching all the material. Although he has been preparing for the last week the extra load and has taught it all before, please pray that he is able to communicate well and effectively to the players in each of his sessions. 
3. Pray for me and the kids as we spend another summer without daddy! I am thankful for loving parents who have let us take the 'storm' to their house and graciously let our kids adjust their lives. It is a tad bit less lonely for me with family around and they do help carry the weight of entertaining little munchkins! And I am so extremely thankful they are willing to take care of them so I can be with the team for a week! 
4. Pray for each player by name... that God would meet them right where they are at, grip their hearts and encourage them, challenge them and motivate them to be changed forever for His glory! 
I will try to update and post as much as I can as I talk with John, but know that you can go to this website AIA Team Blogs to follow the guys. They will post updates every few days with pictures and videos.