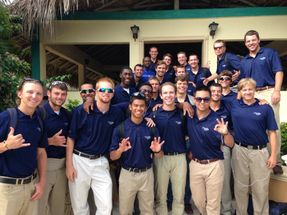 We are back in Ohio after 5 weeks and it sure does feel good to be back. John has headed back into the office today and hopes to help a little with our Ohio baseball team which still has 3 weeks left until they finish up their summer season. For some reason, I am a bit surprised because I felt like the past 5 weeks actually went by really fast and I can't believe we have already completed another year of AIA baseball! 

There are always so many stories to share about the summer -  from the way God opened up the eyes of individual players who have been struggling with drugs or alcohol or pornography and gave them hope, a new understanding and the motivation to overcome their sins to  the impact the team made on the local community building bridges for the local missionaries to continue proclaiming His love for His people. Every summer I wish John and I could sit down with each of you and share the testimony of what God did...
But, alas, I cannot. To give you a little glimpse into what the summers looked like both on and off the field, here is a beautifully done video made for us by Go Ministries in the Domincan Republic. For those that have joined our team in the last year or are new to what we do with AIA, in a nutshell, we disciple 25 baseball players through daily 'team times' every summer while playing games against local teams in the Dominican Republic. At the same time we try to be the hands and feet of Jesus doing humanitarian work with local missionaries in hopes of developing more contacts for them and introducing their ministries to more people. Our ultimate goal is to make His name known and shout to the world that He is worthy!

Below the video I share a few quotes from a couple players on how they were impacted by spending a month as a AIA baseball player as well as a few photos with some captions. I will share more in our next newsletter, but for now, thank you to all who support what we do. God is changing lives through Athletes in Action and we are thankful for your partnership!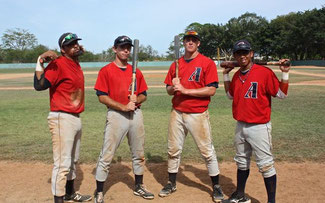 "Just wanted to thank you again for the unforgettable experience you provided us over the past month.  The material, principles, and conversations we were able to have were challenging, helpful, and very informative.  I came home a much wiser, mature, and Godly man.  Additionally, more than anything you said or preached, I was very impressed with the way you served and loved not only the people you interacted with but our entire team.  Thank you for being an example of what it is to be a man of God." - Brent Lawson
"I changed alot. I learned how damaging some of the consequences of my sin can be. Foudn I need to be more outward with my relationship with jesus. Learned about some of the distractions of media. Realized the importance of an intentional fellowship of brothers in Christ. Learned about my pride. Learned a lot about Biblical manhood. What it means to be a man of God. I look forward to growing towards that more everyday. Hope to take the summer and use it with my teammates back at school." - Ken DeCook
"The open forum was the most impactful discipleship team times for me. That's what allowed us to help each other the most I think. Everyone had issues and questions, and everyone at one point was able to offer encouragement. For me, it was pornographhy I struggle with. It's something alot of people struggle with. It was good to go for help, get some perspective, get some practical ways to help. It's definitely an issue that won't just disappear, but I'm ready to defeat it. They [team times] were all good though, each one. I don't remember every one of them, but all of them impacted me. The Holy Spirit changed my heart through them."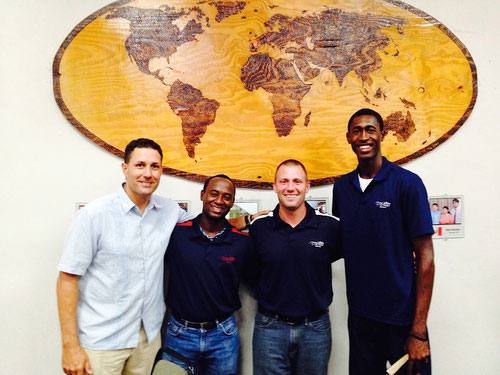 Coach and John with Ariel and Miguel, two young local Domincan FCA staff who participated as players on our team. It was a joy to have them on our team. Here is a brief quote from Miguel:


"Thank you very much for allowing me and giving me the beautiful opportunity of having been able to share with AIA international. I am very thankful and blessed because of it. I want to first of all thank God and then the ministry of AIA for helping me spiritually and ministrerially. A part from all the ministry training, being exposed to the university teams and the universtities I now have the opportunity to go study at one. What is even better is open doors that now exist to share the good news of Christ with athletes and students. Thank you!" - Miguel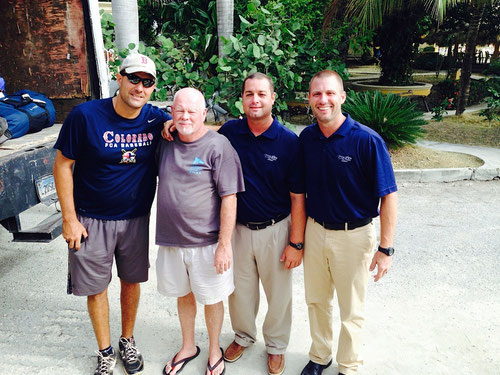 This is Marcos (middle left) and JD (middle right). JD was our assistant coach and Marcos help care for our players during the final week in La Romana. Marcos has lived in the DR for 11 years and has an amazing testimony of how the Lord brought him out of the depths of addictions of all kinds. Out of a passion for his Savior, he serves His mighty God by ministering to the people in the poorest of areas in the Dominican as well as serves teams of missionaries that come to the DR so that they can do God's work among the place he calls home.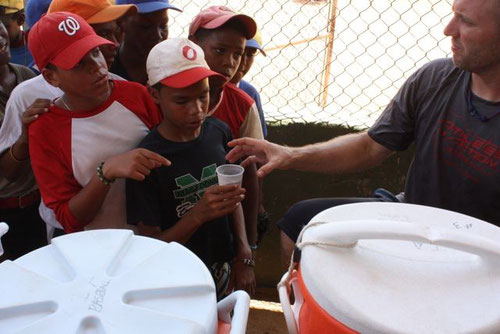 I was fascinated by this... Our team held a baseball clinic of about 50 kids. After two hours in the scorching heat, they asked for a drink of water. We had one cup so EVERY child stood in line and  took turns drinking one cup of water and then had the same cup filled with water and passed to the next child. I just kept thinking about how we would have been throwing a fit about germs if this was to happen in the U.S.! 
The opportunity to love on the kids in the Barios (the poorest area of town in which prostitution is rampant)... Marcos heads up Hope Mission which reaches out in various ways including medical clinics, bible teaching, schooling, etc to those that live in the area. These sweet girls found a liking to me... and they enjoyed playing with a few of the athletic training supplies. The precious child I am holding is 8 months old... she looked about 4 months old. These were her cousin's taking care of her!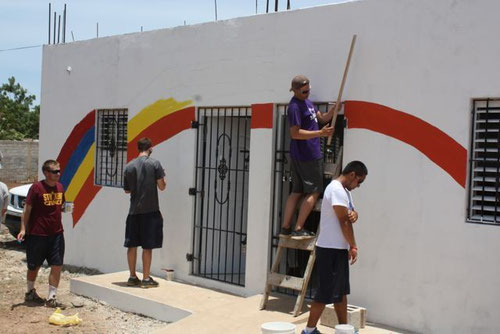 The guys helping Hope Mission to paint their theme rainbow on the wall of a new building they just purchased.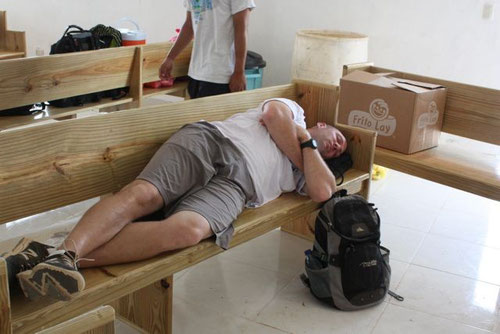 Poor John with Chikengunya... He was detemined to be with the team even though his temperature was high and the heat was unrelenting. I was thankful for the cool breeze and the shade in the building... Not the most comfortable place to sleep when you are ill but he was still thankful he stayed with the team today.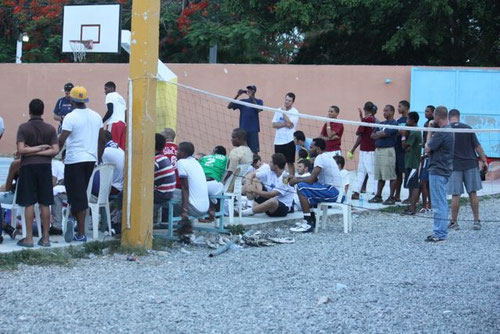 The guys played a little pick-up game and then had the opportunity to share about AIA and share a testimony... These are some of the by-standers that wanted to hear what was being said.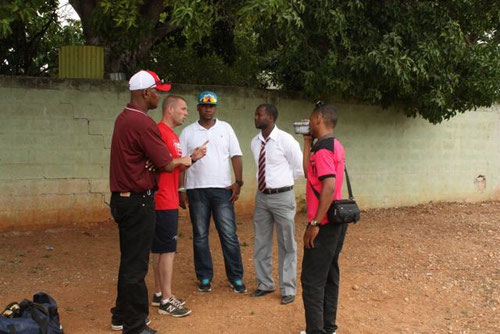 John being interviewed by a local news reporter! I swear my guy is famous in like every latin country! ha!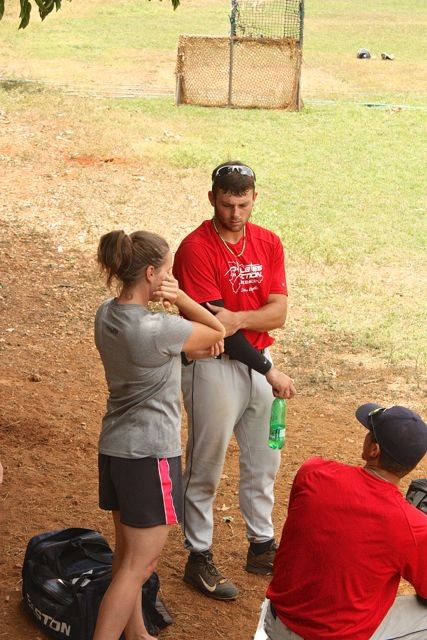 Doing a little athletic training with a player that had a sore elbow.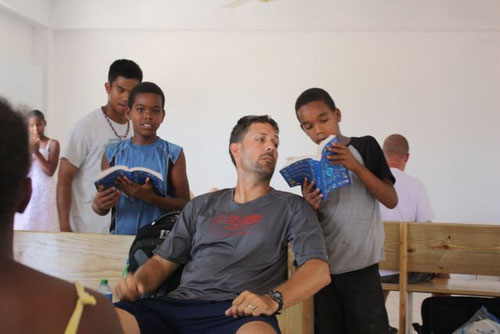 These boys came into the building while our guys were painting and visiting with the neighbors. Coach started asking them some questions and the next thing I knew the bibles were coming out! Coach boldly shared the Gospel and challenged them about some of their preconcieved ideas about what it means to be a Christian.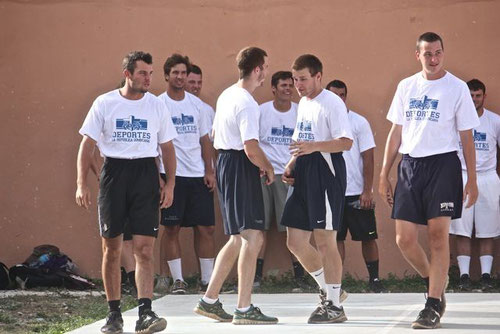 Rally shorts during the pick-up game. They got slaughtered... but they are baseball players after all! At least they showed how to have fun!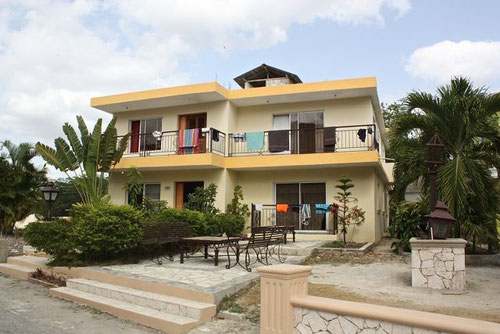 During the final week, the team got to stay on a property used for missionary teams run by Marcos. This was the players building... it was just big rooms with rows of bunk beds, LOTS of mosquitos (no screens on windows which needed to stay open for any air circulation), and lots of stinky baseball players!